Fans of vintage guitars normally claim that vintage guitars sound better than new ones. Why? Some say because the wood is old and dry, or it resonates better with the time a guitar is played.
Others say that some parts were in detail different than they are today. Some of this is vodoo, but there are in fact a few real differences. One of these is the kind of wood used for fingerboards: vintage Fenders mostly had Brazilian rosewood (botanical name: dalberia nigra),  a wood – as the name suggest – from the tropical rainforests. Brazilian rosewood is protected by strict environmental laws these days, it cannot be legally obtained since 1992. No cutting of trees, no export or import. For this reason it is almost impossible to get, and also extremely expensive. New guitars come with Indian rosewood instead (dalberia latifolia, it grows on plantations) , or from some other parts of the world like Madagascar.
Some specs of Brazilian rosewood like average density or hardness are in fact different than for Indian rosewood, also the look is slightly different. As far as colour is concerned, both can be almost black or rather brown, from lighter brown over redish brown to purple brown. Brazilian rosewood can feature a highly figured grain, and  often has tiny holes (I have heard these are in fact wurmholes). Besides it is said it has a typical sweet smell but since I can't smell anything like this on a guitar, I guess this is rather when working with the wood.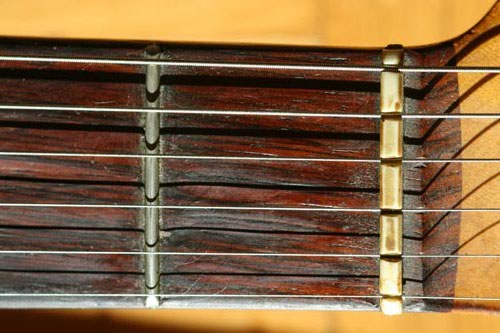 Brazilian rosewood on a '62 Stratocaster. Vintage guitars often have imprintsfrom
the fingernails where these rest when playing frequent chords like E or Am.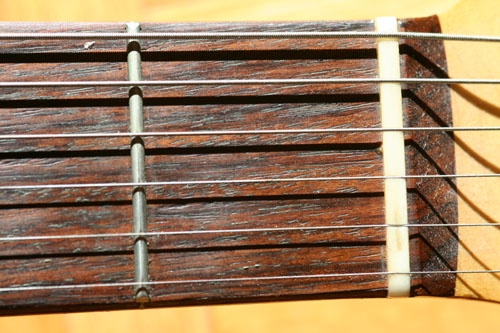 Indian rosewood can look very similar.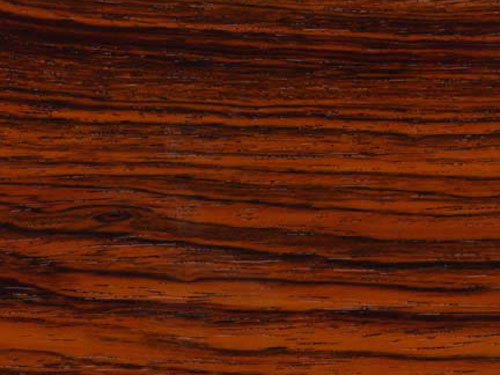 Brazilian rosewood often has an attractive grain .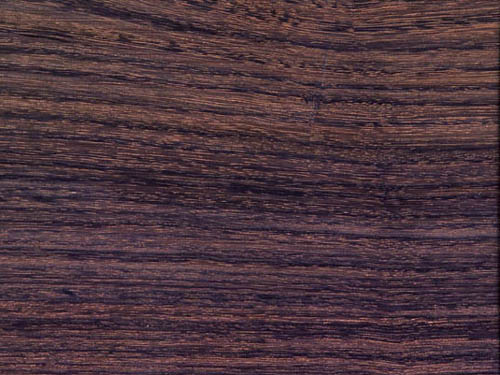 Indian rosewood
Brazilian rosewood is said to sound a bit brighter but nevertheless warm. To make one thing clear: the tonal differences are very subtle, and both kinds of wood can sound fantastic. If you google for 'brazilian + Indian + rosewood' you will find hundreds of pages or discussion from guitar forums about these differences.
What is my personal opinion: I have played many guitars with Brazilian rosewood. The problem is as always that you will never have two guitar that are identical with the exception of one single feature like the type of rosewood (and nobody would replace his fingerboard to make an A/B comparision obviously). Nevertheless, I got the feeling that the ones with Brazilian rosewood had something in common that is missing with Indian rosewood. A subtle difference, but still there. Or I am simply wrong, who knows (now the experts can chime in).
Mark Knopfler's '61 Strat has Brazilian rosewood – Fender changed only gradually to Indian rosewood sometime between the late 60ies and early 70ies. His Pensa Suhr from late Dire Straits days also has Brazilian rosewood, I am not sure about his later Pensas (luthiers often still have small supplies of it, their 'personal treasure'), the Signature Strats haven't.