It cannot be answered with 100% certainty which string gauge or brand Mark Knopfler played on e.g. the first Dire Straits album or on Communique. There were a few interviews with major guitar magazines, but unfortunately none of these asked for strings.
For a long time the earliest information was from the Making Movies tour book which listed Fender Extra Lights for this tour. However, this was late 1980 and Knopfler meanwhile had changed to a different guitar (Schecters instead of vintage Fenders) and completely different gear (e.g. all that rack stuff).
Fender Extra Lights were pure nickel strings with gauges 09, 11, 15, 24, 32, 40 (they have different gauges these days: 16 instead of 15, 42 instead of 40 !). On the next tour he also played 09ers (Deam Markley Custom Light: 09,011,016,026,036,046) so it seemed he was a 09-player in all those years.
It was only a few years ago that I bought a guitar magazine from 1980 with Knopfler and his red Strat on the front cover on ebay. This was Musician from July 1980.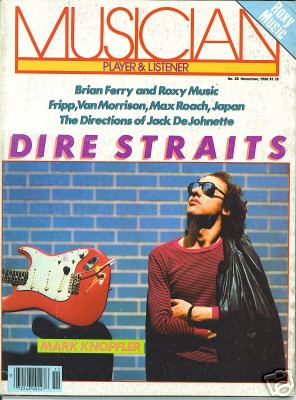 Besides the rather informative interview there was an info box about Mark Knopfler's gear on the last page of the interview which lists guitars (e.g. his brand new Schecters) and amps/effects (still the old stuff from the Communique tour, mind the interview was before the Making Movies tour), and it said which strings he played, and these were not 09ers as assumed, but …
Fender Super Lights
Fender Super Lights was a 08 set (08, 11, 14, 22, 32, 38), also pure nickel. Of course the magazine does not say explicitely that these were used on any of the first CDs or on the first tours, but nevertheless, it is the earliest available information.
I myself had started to use thinner strings on most of my Strats since a few years before because I had the feeling they make some particular licks sound more like those old Dire Straits sound, also Fender and almost the same gauges as the Super Lights (only difference: I favour a 09 instead of 08 for the high e string), so I can indeed say that to me 08 sounds pretty good.
There is still the saying that big strings give you a big sound, so people like Stevie Ray Vaughn favoured extremely heavy strings, and also Knopfler seems to have gone more and more towards heavier strings over the decades. However, to me that Sultans sound is still one of the best I have ever heard and absolutely unique, so why not using a rather exotic sting gauge for it? And besides, 08s were rather common in the 70ies, you could get them everywhere and only recently they have disappeared from most shop shelves. The good thing: Fender still makes them, and who know, maybe this artice will help that they never will discontinue them 🙂
PS: Due to a technical problem I had to change some setting concerning the RSS feed function, so in case you get problems with the RSS, please subscribe again, sorry for the inconvenience. 🙁
To all other readers who read this blog regularly and are not familiar with RSS: You find the RSS subscribing uner Meta in the left sidebar, or at the bottom of each page. Use it to subscribe to the blog, which means you are automatically informed about any new posts (or also comments if you want) directly in your browser or your feed reader software.