Mark Knopfler has used a volume pedal almost since the very first beginning of his career. He does not only use it to adjust the overall level, but also for his characteristic volume swells that make a note fade in just like a violin. In short, he hits the note with the pedal all the way back to remove the attack, then presses it down to fade in the note.
For the first years he used a Morley volume pedal, but later he changed to a model by Ernie Ball. This is common knowledge that can be found everywhere in the internet.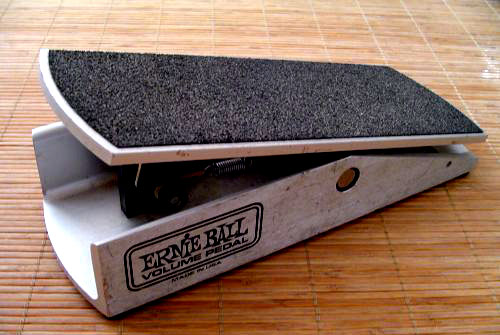 I bought one of these Ernie Ball pedals many years ago. However, I found out that mine basically does what it is supoosed to do, but in detail there seem to be some differences to the way Knopfler's pedal works. Over the years I had some good opportunities to watch him operating the pedal on stage, and I noticed that he often takes volume back to let's say 70 – 80 % of the pedal way (100% = all the way down, full volume), and the volume of the guitar becomes slightly lower (maybe also 70 – 80% volume).
When I set mine to 70 or 80%, the volume is considerably lower, maybe just 50%. In other words, mine changes the volume quite a lot as soon as you take it back just a bit. This makes it rather hard to set the volume to the desired level, one fraction of an inch too much and it is too low.
I also noticed that he can create very 'fast' volume swells easily, which means the attack is filtered out but the note comes in quickly. When I do it, the volume comes in slowly, I have to press it down a rather long way – and very fast – until the note really cuts through.
It seems that the poti in Knopfler's pedal behaves differently than in mine. The behaviour of a poti can be displayed as a curve, see this diagram: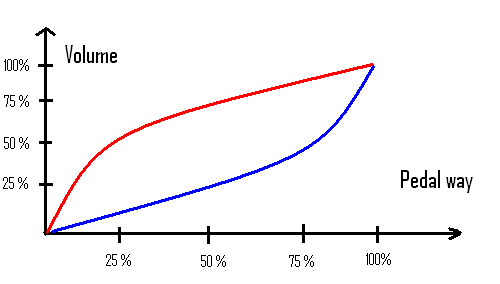 Mine behaves like the blue curve (comes in slowly while the last inch of the pedal way changes a lot) whereas Mark's rather does the opposite (red curve).
I found the solution in an interview with Mark's guitar tech Glenn Saggers. He said that Mark is only happy with a particular poti that Ernie Ball once used, but which is not installed in later models anymore (some recent models allow you to change this curve by the way). They even gathered a supply of that old potis in case it worns out and must be replaced.
I later tried a second and even a third Ernie Ball pedal, but all of them had the same curve as mine.
One day I accidentally found a solution that works for me, without having to buy a new poti or to spend any cent at all (and I admit I had no idea where to get such a poti). I swapped the input and the output jack because I accidentally plugged the guitar cable into the amp jack (output) of the pedal and the cable to the amp into the guitar input jack. And voila, it behaved exactly as I want it to do. 🙂
There is one side effect of this which I have to mention. This way the pedal swallows some treble end when not pressed completely down (all potis do so but this way the effect is a bit extremer). However, this is no problem for me since the softer tone fits nicely to low volume, while full volume cuts a bit more. If you use one of these and have the same problems, try it out and let us know what you think about it.
Update: I recently found out how to modify all those Ernie Ball pedals with the wrong curve (basically all after the mid 80ies).