One of Mark Knopfler's most famous guitars is surely his National Style-O (read "style – oh"). This is the guitar on the cover of Brothers in Arms.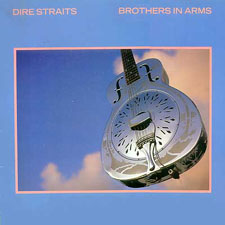 AFAIK he bought this guitar from his buddy Steve Phillips long before Dire Straits, it was his second National (the first was a Tricone from the late 20ies which he bought from an old man in Wales).
What makes a National unique is not only the metal body but the resonator – something like a mechanical loudspeaker so to say. The first National appeared in the 1920ies, at a time long before electric amplifiers were used for guitars. The resonator increases the volume of the guitar so that it was ideal for street musicians or everyone who had to compete with other instruments in a band. More general info on resonator guitars be found in the Wikipedia article.
In this post I want to present some detail photos of a National, a 1936 model that is very similar to Mark Knopfler's – which seems to be probably from about 1937 to me.
This guitar sounds fantastic. I had a metal Dobro guitar which I bought in the late 80ies, thinking that all metal resonator guitars should sound pretty much identical (and there was only Dobro who produced them at that time). When I first heard this guitar however, I immediately decided to sell the Dobro because it sounded miles away from this one.
The body is brass (some other Nationals like the Duolians were steel), and the neck might be mahogany (not sure). The neck is extremely fat. It has a V-shape with such a depth that many capos (e.g. my favourite the Shubb capo) do not open wide enough to be used here.
The fingerboard is slightly curved what I prefer over the flat ones that were common a few years before.
But now enjoy the slide show with a lot of pictures. I will report about some other details of this guitar (including pictures of the interior) in a future article.