Following on from Ingo's excellent article on the stolen sunburst schecter used on Tunnel Of Love. I (Dermot O'Reilly also known as strat61 on some forums) have been invited to write a piece on my Schecter come fender strat inspired by that guitar.
Inspiration
Although I followed Dire Straits from 1978 with Sultans it was only Christmas 1980 when I started to play the guitar myself that I really locked onto Knopfler's style and really fell in love with the strat. Tunnel Of Love has and always will be a special song for me especially the breakdown part in the song with the lines ..
Girl it looks so pretty to me
Like it always did
Like The Spanish City to me
When we were kids
.. and the subsequent play out. As a kid living in Doncaster in Northern England me and me mates (we don't say "my mates and I" up there) we always kicked around the local fair that visited the Town Moor race course (not Newcastle's Town Moor a ref for the song along with Spanish City). So at 16 years old having suffered a few life blows already it gave me a real lift.
My Sunburst Schecter Strat Copy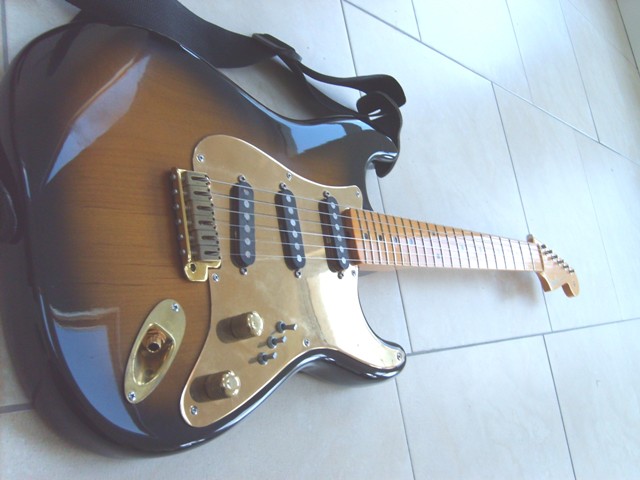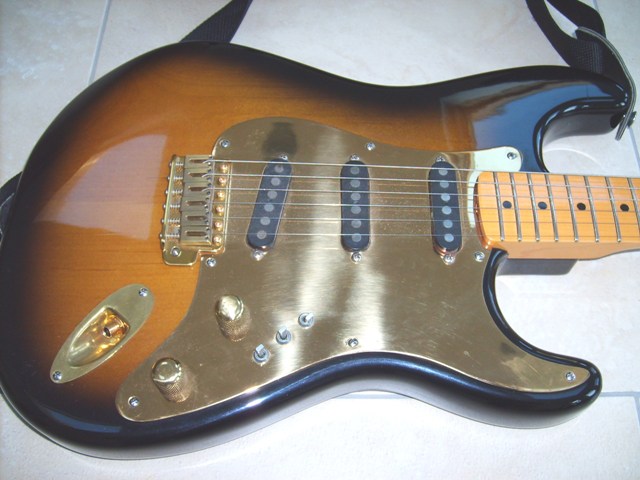 Even though the red schecter strat was used for live shows and TV at the time like Whistle Test because the sunburst had been stolen during Making Movies tour rehearsals Sept-Oct 1980 I later came to discover the Tunnel Of Love (stolen) strat which in the past few years I succeeded in a holy quest to replicate.
So basically it's half original Schecter and half a 2006 Eric Johnson Sunburst Strat which is based on a 57 strat with the improvements Eric made, not so much for better sound (any strat has the potential for sounding great) but more for playability and stability. I liked the two piece alder body as the join wasn't noticable and the very thin nitrocellulous lacquer finish. The neck is a 1-Piece Quartersawn Maple, Soft 'V' Shape with a nitrocellulose finish. I added an original schecter brass pick guard fully loaded with schecter F500 tapped pickups and original untampered (still waxed) wiring harness. The exact same as used by Knopfler in his sunburst schecter strats (1980 – 86). Also an original Schecter brass bridge with brass block plus brass "bath tub" input jack.
I always loved those Californian Schecter guitars that Mark used early on in Dire Straits and still untill very recently. I remember the day I read the reply from Andys a guitar shop in Denmark street as I read somewhere that Mark used the store and I wrote to them on "real paper" asking for more information. They said Mark used Schecters not Fender strats – I was shocked. But that soon changed when heard Making Movies was recorded with schecter strats.
Sounds
Here's a clip of me playing a few Knopfler licks. Gear is my Schecter/Fender sunburst strat, 1977 Musicman 65W 212 amp. Also in the chain is a vintage Morley volume pedal, vintage MXR compressor, Boss Delay DDS-3 and an Aphex Aural Exciter.
Even though I have an old 1984 squier (The Popular) strat based on old 70's fenders that I love this strat feels like a profession model, it's well behaved, all the frets positions play well, but it is a fuller more smooth sounding strat – less brittle. I prefer the half tapped settings as they have a more open tone, the full bobbin is as a result more closed less harmonics but you can more easily get a pinched harmonic sound as is the case with humbuckers – I usually only use the untapped settings for blues or slide. In terms of matching the Tunnel of Love tones it's pretty close, although I think my Music Man amp has a bigger part to play as any amp does in the tone mix, but this is the amp that was used on that album. The Schecter pickups can get some of the dynamics heard in that song especially the initial rhythm chops at the song start better than a bog standard strat. I'm still not sure whether Telegraph Road (played with the sunburst schecter replacement) uses the fully tapped or half tapped settings. Also an added plus is getting a great Walk Of Life tone as the pickups are the same as Marks Red tele and you can switch in the Neck and Bridge together.
What I like most about this strat apart from the looks of course is it's ability to cover any type of style rock, blues different Dire Straits stuff over the years. It does a good impression of a Gibson Les Paul with neck/bridge non tapped and tone rolled off and as I just discovered yesterday with the bridge/mid non tapped you can get a good Ride Across the River tone – whereas sometime a std strat does only a few things well if your lucky. Thanks for reading.