The US leg of Mark Knopfler's 2010 Get Lucky tour is over, and we in Europe are looking forward to the next part. Due to the new recording policy on all MK concerts, there seem to be less videos on youtube than we had the years before, but still we have some 🙂 On the base of mainly these videos I put together a list of the guitars Mark has used on the different songs on this tour so far:
Red MK Signature Fender Strat(s)
Of course he played his signature model, and probably more than just one. He played it on:
Border Reiver, What it is (not confirmed) , Sailing to Philadelphia (not confirmed), Romeo & Juliet (outro solo), Sultans of Swing
The guitar on Border Reiver is tuned to Eb (one half tone lower than standard tuning). On the 2008 tour he played one Strat with 010 strings on What it is and Sailing to Philadelphia, and another one (owned by Glenn Worf) with 009s on Sultans of Swing and Romeo & Juliet, might be similiar on this tour.
Gibson Les Paul
The following songs seem to be the '58 Les Paul. I can't tell if the '59 was also used.
Why Aye Man, Hill Farmer Blues, Cleaning my Gun, Speedway at Nazareth, Brothers in Arms
Fender '54 Stratocaster
So far away
I first listed So far away for the MK Signature Strat, because of this video (bad quality, red or sunburst Strat?) but on all other ones I have seen so far it it the sunburst '54 Strat.
Pensa
Telegraph Road (2nd part)
National Style-o
Romeo & Juliet, Telegraph Road (part 1 – until "three lanes moving slow")
Don Grosh Electrajet
A rather new addition to Mark Knopfler's collection.
Piper to the End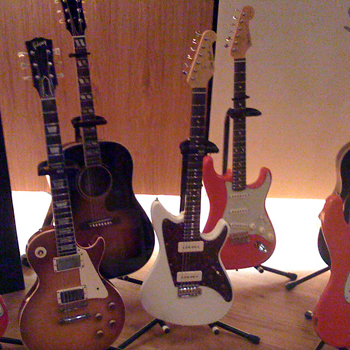 Martin 0040S
The Ragpicker signature model
Get Lucky, Marbletown
Danelectro
Tuned to open E, slide
Donnegan's gone
(No information yet)
I cannot tell which guitars he played on the following songs. If you have been to the US tour or know more from other sources, please use the comment function to let us know.
Prairie Wedding, Monteleone, Remembrance Day, Coyote