After seeing Mark Knopfler live on the recent Get Lucky tour I can confirm that he plays different MK Signature Stratocasters on stage (compare the post on Guitars on the get Lucky tour). In Oberhausen und Amsterdam he seemed to play four different red MK Strats:
#1 – on Border Reiver
This one is tuned to Eb which of course does not mean an open tuning but one half note lower than standard tuning, something Jimi Hendrix or Stevie Ray Vaughn did to get a fatter sound without having trouble with playing techniques like string bending.
still looking for good picture
#2 – on What it is & Sailing to Philadelphia
Just like on the last tour, he probably has 010 string gauge on this one. Serial No is SE 00000 (confirmed for 2008 tour)
still looking for good picture
#3 – on outro of Romeo & Juliet and on Sultans of Swing
Probably with 009 string gauge again (confirmed for the Kill to get Crimson tour), with a wireless camera mounted on headstock. This one has a comparatively light rosewood fingerboard. On the 2008 tour he played these two songs on Glenn Worf's MK signature Strat, which has a lighter, more orange colour. This might be the same guitar again.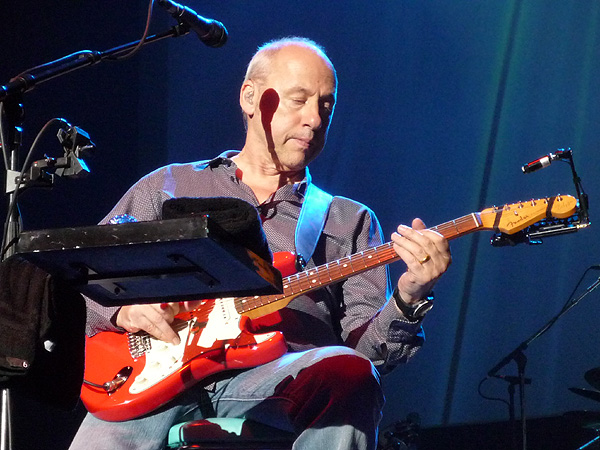 #4 on So far Away
On some gigs he played the '54 Stratocaster, but seems to use another MK signature with heavy strings (wound g string) now. Easily to recognize on pictures because of the narrow guitar strap.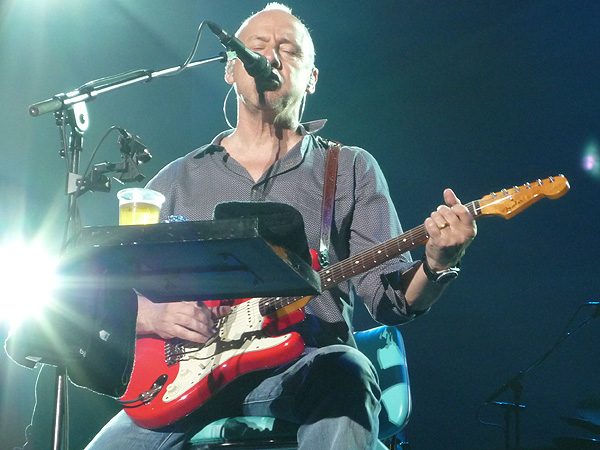 One of Mark's signature Strats has the serial no SE 00001, but I cannot tell for sure which of the four guitars this is. The one on So far away has a nice slightly flamed headstockk, but the flame/grain pattern seems to be different than on the 00001 Strat. Maybe it is the one on Border reiver?
I am looking for good pictures of guitars #1 and # 2 to contrast them all here. If you have any, please send them to me so that I can put them into this post.
And if you wonder where I got the information about the guitars of the 2008 tour from, check out this video in case you don't already know it: