After the loaded Schecter-style pickguards, I am now proud to offer a second high-quality component to upgrade  your guitar to make it look and sound more like a Van Nuys era Schecter Dream Machine: the MK-guitar.com Dream Machine Tremolo.
Unlike the standard Fender Tremolo that is made of steel (or often even cheaper substitutes like zinc for the tremolo block), the Dream Machine Tremolo is made completely out of  bell brass. For all those who love Mark Knopfler's sunburst Dream Machine, I have a gold-plated version, and the fans of e.g. Mark's  metallic red Schecter Strat can get it in chrome-plated. Indeed, even the chrome tremolo systems on all vintage Schecter Dream Machines were made completely of brass!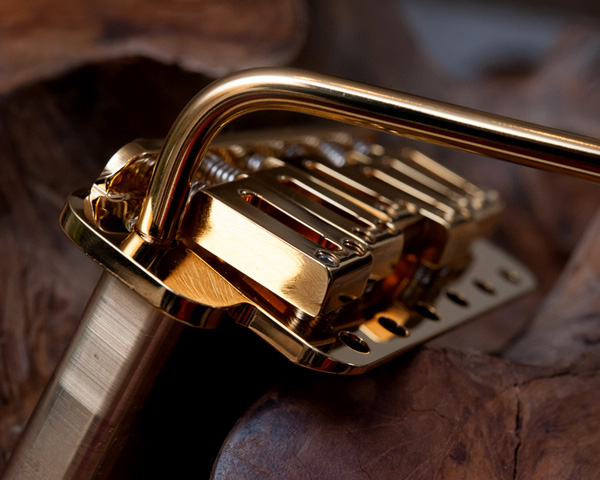 Brass –  the Magic Sound Secret of the Seventies
Schecter started as a part supplier in 1976. Their philosophy was to offer upgrade parts of superior quality for all important parts on a Fender guitar (plus some others) . You could get metal pickguards instead of plastic, or beautiful exotic woods instead of just plain maple, alder and ash. And all metal parts that are invloved in the sound production, like the bridge, saddles, and the nut, had to be of brass. Brass was known to increase the sustain and tonal qualities of an electric guitar. For this reason Fender also started the 'Brassmaster' series with brass replacement parts for their guitars in the early eighties, and their exclusive top-of-the line model The Strat (introduced in 1980) featured a solid brass bridge, brass knobs, and a brass nut. This does not mean that vintage Fenders with their steel parts sound bad- we all know how wonderful vintage Strats can sound – but the softer and warmer bell-like tone of brass is simply different. However, for all who are looking for the sound of a guitar with brass hardware, like all of  Mark Knopfler Schecter Dream Machine guitars, there is no other option than brass because this is what these sounds were produced with.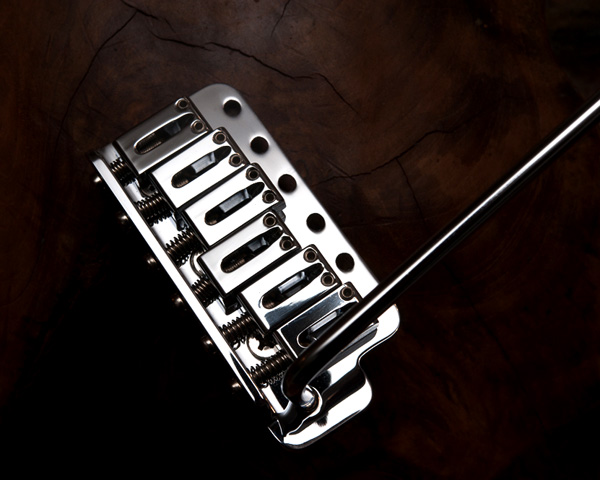 An easy mod in the late 70ies was to replace the tremolo block with a brass block (who knows, maybe Mark even had one in one  – or both – of his red Fenders – as said, it was very popular at that time).  But it is not only the block that contributes to the sound but also the bridge and the saddles themselves which are in most direct contact with the vibrating strings. Furthermore,  brass and brass is not always the same, as brass is an alloy of mostly two other metals: copper and zinc, and the zinc percentage  can vary between something like 5 to 40 percent. The Dream Machine Tremolo is made of a special, sonically ideal bell brass to produce the best sound without compromises. It rings like a bell!
Other Features
Just like the Schecter tremolo, the base plate of the Dream Machine tremolo is thicker and more solid than on a Fender vintage tremolo or other reproductions. Also the shape and the look with much rounder edges is a bit different, just like vintage Schecter stuff. And then there are the saddles, which are – as most of you have surely noticed on any picture of Mark's Schecters – not of bended steel but much more solid, and also completely of finest bell brass. Gone are the times of rattling or buzzing string contact at the saddles!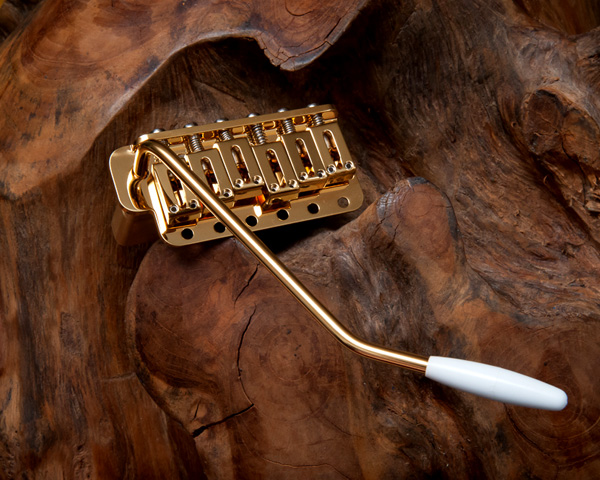 Highest Quality made in Germany
The Dream Machine Tremolo is not a cheap reproduction from the far east, it is made with high-technology computer controlled tooling exactly to our wishes, exclusively for mk-guitar.com by  Germany's top-reputation guitar parts supplier – ABM in Berlin. The idea was the same as at vintage Schecter: to build the best that is possible!
If you want to upgrade your guitar and want to replace your tremolo system, you can get the Dream Machine Tremolo without mounting screws, springs, and tremolo arm (any arm with US thread should fit) , or you can get the full assembly to build  your dream guitar out of scratch.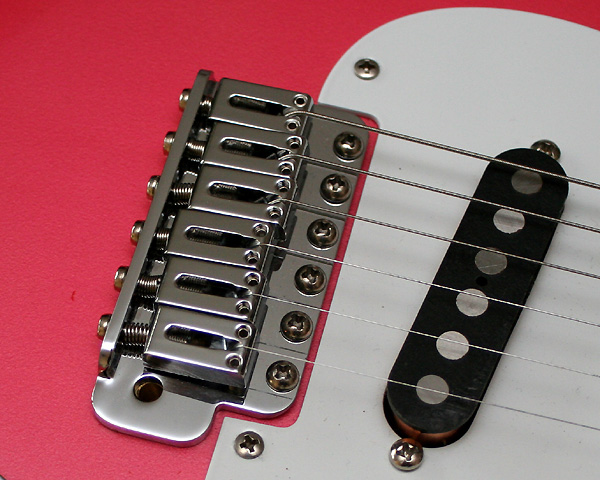 Get it here in the mk-guitar.com shop exclusively: