I finally decided to start  a new database for all the Mark Knopfler gear that was used over the years. This will take surely several weeks (or even months), and finally will be a never-ending progress.
The idea is to have one dedicated page for each guitar/amp/effect that holds all info we have on that guitar/amp/effect. As each page has the possibility to add reader  comments (at the bottom of the page), everyone – even without being registered – can add relevant info that is not included yet. I will then regularly add these pieces of information into the page itself but will leave all comments so that the author and the origin of all information will be documented and remains visible. So please all help with your input to create something that one single person alone would not be able to.
You can access the database from the navigation bar on top of the page ("Mark Knopfler gear database") or from the sidebar (under "Pages"), or for now here (at this very moment only a handful of  Strats have been finished. So, if you have good ideas for improvements, now would be the right time as it should be possibly to add these easily at this early stage.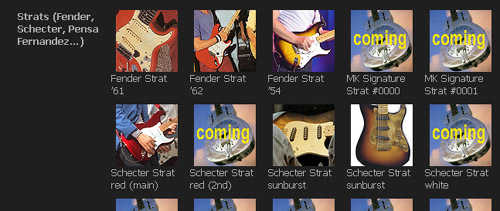 Me and (mainly) Jean-Francois already started a "which guitar/amp/effect on which song" database some time ago (find it here). I always felt the problem that this alone did not make too much sense since we could not link from the piece of gear like e.g. the guitar mentioned there to a page with info on that guitar, but now things start to go together.
By the way, I recently moved the whole site from mk-guitar.com/blog/ to mk-guitar.com (your links and bookmarks that point to /blog/ should be redirected to the new address automatically) – just to let you know.