Recently another diamond was dug out: an uncirculated early Dire Straits recording appeared out of nothing, from the Paradiso, Amsterdam, October 23, 1978. Unfortunately it is "only" an audience recording, nevertheless the sound quality is really nice. And it is the complete show.
This gig was only a few month after the release of Dire Straits' first album. They had played some gigs in the UK in summer 1978 (e.g. the one of the Live at the BBC CD) but the ones in Belgium, France (e.g. Chorus TV), the Netherlands, and in Germany in October were their first gigs abroad. Compared to later years, there were much more spontaneous elements at that time, like improvisation or different guitar licks.
While Mark played his maple neck Strat on the summer gigs, he played his 1961 rosewood Strat in the second half of that year. It seems he had it just painted red (it was a bare wood finish when he got it about a year before) so that it was ready for the international stages now. At the same time he switched from Fender amps to the Music Man HD130 212 combo, and he still played his Morley volume pedal and the green MXR Analog delay.
I found the recording on the tracker of our Spanish friends but it seems it was first available on Dime. Unfortunately the recording runs about 2.5% too fast. These old recordings are often too fast or slow as analog tape recorders varied a lot from their specified speed of 4.75cm/sec, so most recordings run somewhere in the +/- 5% area. I recommend a software like the free Audacity which allows you to adjust the speed (Effect menu – change tempo / pitch). Below you will find a sample of Follow me home which is already speed-corrected. Note how this early version (two month before it was recorded for Communiqué) differs from later ones, played much faster and with a different drum beat. I absolutely love it!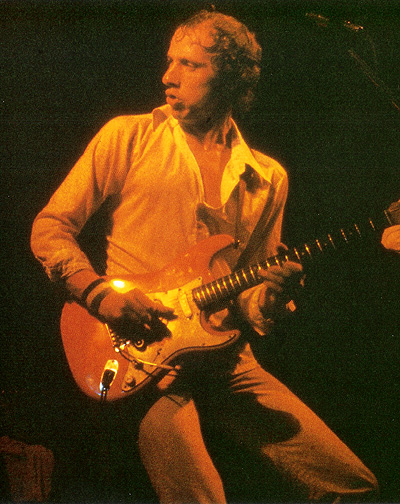 Sample Dire Straits – Follow me home, October 23, 1978