After the other article about Knopfler's Ernie Ball volume pedal, this time I want to feature the volume pedal he played before, which means during the Dire Straits days until the end of the Making Movies tour in 1981. The pedal I am talking about is the silver Morley Volume Pedal.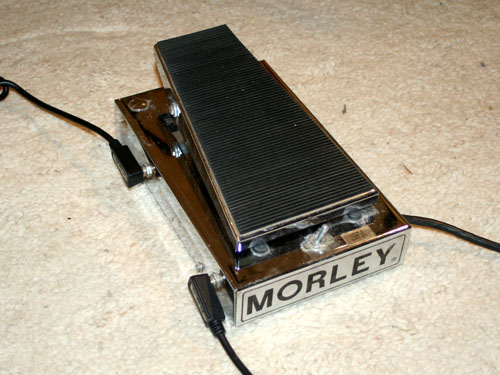 Morley made a whole range of effect foot pedals, including a very popular wha-wha or even models with built-in flanger or delay. All of these could be used as simple volume pedal as well. Knopfler's model, simply called "VOL", was just the ordinary volume pedal.
The unique thing about those Morleys was that they did not use a poti  but a photo resistor instead. The advantage: potis tend to make noise after some years of usage, the photo resistor will not, no matter how much you use or even misuse it (dusty or smoky stages, humidity etc.)
What sounds rather complicated was in reality an extremely simple circuit: a small bulb  – the one behind the red jewel light that is also used as power indicator – shines on a photo resistor (LCR) which lets the guitar signal pass as long as it receives light. When you roll back the pedal, a piece of black cloth is pushed between the bulb and the photo resistor which reduces the volume of the guitar accordingly. That's all! Well, the simple ideas are often the best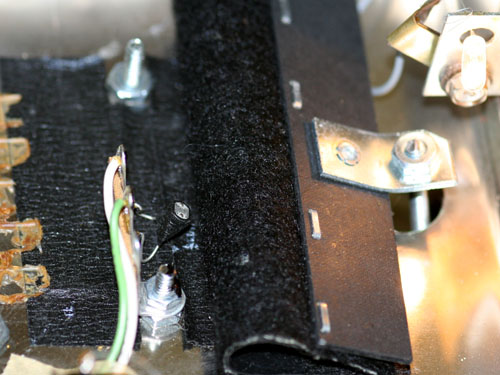 The bulb (right) shines on the LCR (center), if this is not covered by the cloth
As the bulb needs electric power, the pedal is powered via mains line voltage, no external 9V adaptor like modern pedals! Since the power indicator bulb is part of the circuit, it means when it blows the pedal is dead. Fortunately replacing the bulb is simple and cheap.
The pedal way is extremely long. This means you can control the volume precisely, but you have to move your feet quite a lot. You get used to this, I have no problems with it. You can adjust how quickly or slowly the pedal reacts with a screw that changes the position of that black cloth. And you can adjust how easily the pedal moves with the two screws that hold the pedal. The whole thing is very stable, you can rest your foot with a lot of weight on it without problems.
One thing that is remarkable is that the pedal changes the sound, even when pushed down completely (full volume). This is due to the – compared with other guitar gear – extremely low input impedance which dampens the resonance peak of any passive guitar pick-up. It sweetens the sound of a Stratocaster pick-up. Without it that Dire Straits sound would definitely have been harsher.