Some weeks ago I visited a local music shop – the Music Store in Cologne – who have a dedicated custom shop showroom. Lots of custom shop Fenders, expensive Les Pauls, and other fancy stuff. In the upper right corner of their wall full of guitars I immediately spotted a red Strat that looked nice – can't help but red guitar always seem to attract my eyes quicker than any others 🙂 . I took it down and played it, and – WOW – it not only played great but had an absolutely stunning sound! (In fact in such situations I don't need to plug it in, the acoustic sound is enough for me – just as a sidenote).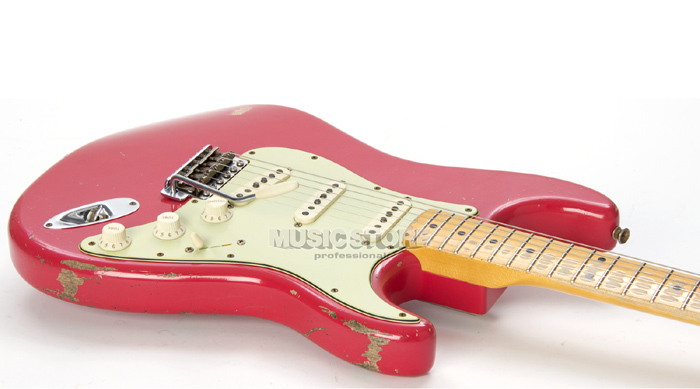 What was striking about that guitar were some unusual features that immediately made me think of my all-time favourite guitar – the one that made me start to play in 1979 – Mark's red maple-neck Strat '80470: a laminated maple fingerboard (instead of a one-piece maple neck, thus no skunk stripe), a 1959-62 style pickguard (the position of that screw…), otherwise vintage specs. One difference was the colour which was fiesta red (Mark's was more towards what is called hot-rod red today, or even dakota), and the relic finish (Mark's was refinished and looked like new). I asked for some information on that guitar and learned that it was a limited run (of 20 guitars) by the Fender custom shop.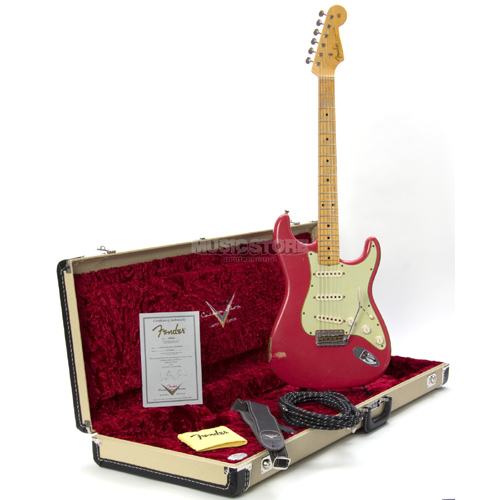 Here is a list of the features:
a sorted alder 2 piece body with 1956 shaping, maple board, pickups were a 69 at the neck, fat 50's in the middle, and a Texas Special at the bridge, a greenish celluloid (!!!) pickguard (yeah, Fender has limited quantities of these again), nitro finish (body and neck), 6105 frets, a rather fat neck with 9.5″ radius, price: 2549 Euros
I admit I was thinking about buying for some time, but finally decided not to do (I really can't say I am in dire need for another red Strat…).
I finally plugged it in but not into an amp but into my PCM recorder to have some sound samples to compare it to other Strats. My wife filmed some minutes with her mobile, I reamped the samples and put them in sync with the video so that you can see and hear it on the following video. By the way, the guitar is already sold meanwhile, and so is a second one they got right after the first, and this was the last. 🙁