J.J. Cale – who sadly died last year – has been a huge influences for Mark Knopfler.  Especially for the early Dire Straits sound, J.J. Cale was probably the biggest influence at all. So it is no wonder that Mark appears on the tribute album The Breeze that was released on July 25. The project was organized by Eric Clapton, so the official artist is "Eric Clapton & Friends". Mark sang and played guitar on two tracks, Someday and Train to Nowhere. These were recorded at Mark's British Grove studio in London.
While the other "friends" – illustre names like Eric Clapton, Tom Petty, John Mayer, Willie Nelson, and more – all covered some of J.J. Cale's best-known 'hits' , Mark decided two cover two rare and unknown songs, which in fact only exist as unreleased demos.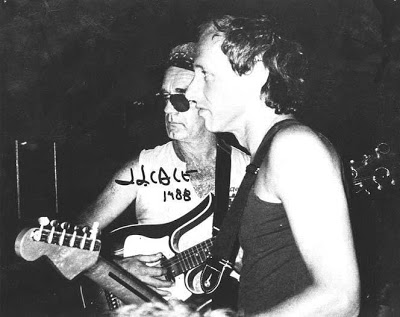 Someday is a very typical J.J. Cale song but it is really astonishing how much Mark can make it sound like J.J. Cale, not only the guitar sound but especially the vocal style on this song is so close that I can easily imagine to hear J.J. Cale himself. Mark seems to play one of his Strats with a clean sound, played very 'laid-back'  – the 'official'  term to describe J.J. Cale's  cool and relaxed playing, where the notes are played almost 'behind the beat'.
The chords (one verse / solo) of Someday are:
Dm  Dm  Dm  Dm G  G  Dm Dm
C  G  Dm Dm
G  Bb (1/2) C (1/2) Dm Dm …
Train to Nowhere is a typical 'one-chord groove song' – the one and only chord being C. Mark plays a rhythm riff and sings the vocals except on one of verses which features Don White. Between the verses Mark plays a few solos and licks, also with a clean guitar sound. Also a nice one.
You can buy the album and listen to a preview of all songs here on Amazon.