This  blog post was written by Jean-François. Thank you J.F. ! 🙂 [some comments by Ingo in brackets]

Mark Knopfler has always been associated with fingerpicking. His totally unique right hand technique has become his landmark since the first Dire Straits album in 1978. However, Mark also sometimes plays with a guitar pick – not only but mostly during his solo career.
Among his childhood guitar heroes, Chet Atkins and Hank Marvin were probably the most important for him. From Chet he learned the fingerpicking style. Hank started the desire to get a red Strat, but also to play the twang style i.e using the tremolo arm at the end of each lick instead of using the left hand vibrato. That's a style he used to play more and more during late years, trying to reproduce that Hank style, most of the time with his '54 Fender sunburst Stratocaster aka "the Jurassic strat".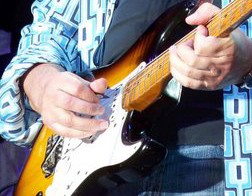 It's interesting to notice that there are also songs with that "twang-vibrato" touch but played with fingers : I'm the fool, So far away (except in 2006 and 2008 when he used a pick for this song), and in a certain way why worry or nobody's got the gun… A liitle bit like Mike Oldfield who played on many songs in a certain Marvin-style with a clean-reverbed tone and the whammy bar, but with fingers instead of pick.
Besides this Hank style, Mark played with a pick on many songs during DS and solo days, mainly in studio, rarely live. It was mostly for strummed acoustic guitars or rhythm parts.
Sometimes, he makes a "virtual" pick with his nails. He does this very often when he wants more power, e.g. at the end of Money for nothing (see Live Aid 85 at 6:50) , or even Private investigations on nylon acoustic (see WEMBLEY 85 at 6:26)
He does it also during the firts part of Tunnel of love (and especially during the break) and for the intro on So far away (except in 2006 and 2008 when he used a pick for this song).
If Mark uses a pick live he kept it during the whole song (expresso love, our shangri-la, fizzy and the still, So far away in 2006 and 2008, let it all go, True love will never fade, The man's too strong…)
I never saw him alternate pick and fingers in the same song, EXCEPT for news/Private Investigations final in 1980-81, he took the pick just for outro (at 4:18)
[Ingo: I think he changes from pick to fingers on Tunnel of Love where he played the first two or so verses with a pick and then changed to a semi-lead/riff style played with the fingers]
List of songs  played with a pick
Below is an attempt to list all songs from DS/solo/NHB on which he uses a pick. Question marks stand for not 100% sure.
1976 Pre-Dire Straits
He used a pick with the Café Racers because "it was a combination of rhythm and lead playing "as he explains in the Oldfield book. "I used more the pick at the time"
So we can assume that most of covers performed with Café Racers were played with a pick, on the Gibson LP special
[Mark said he played with a pick in the Mick Green style then]
1978 Dire Straits
southbound again : accent chords
[Ingo: not sure]
1979 Communique
where do you think you're going : acoustic part ?
Live he played it with fingers, but the acoustic part on studio version sounds like being strummed ?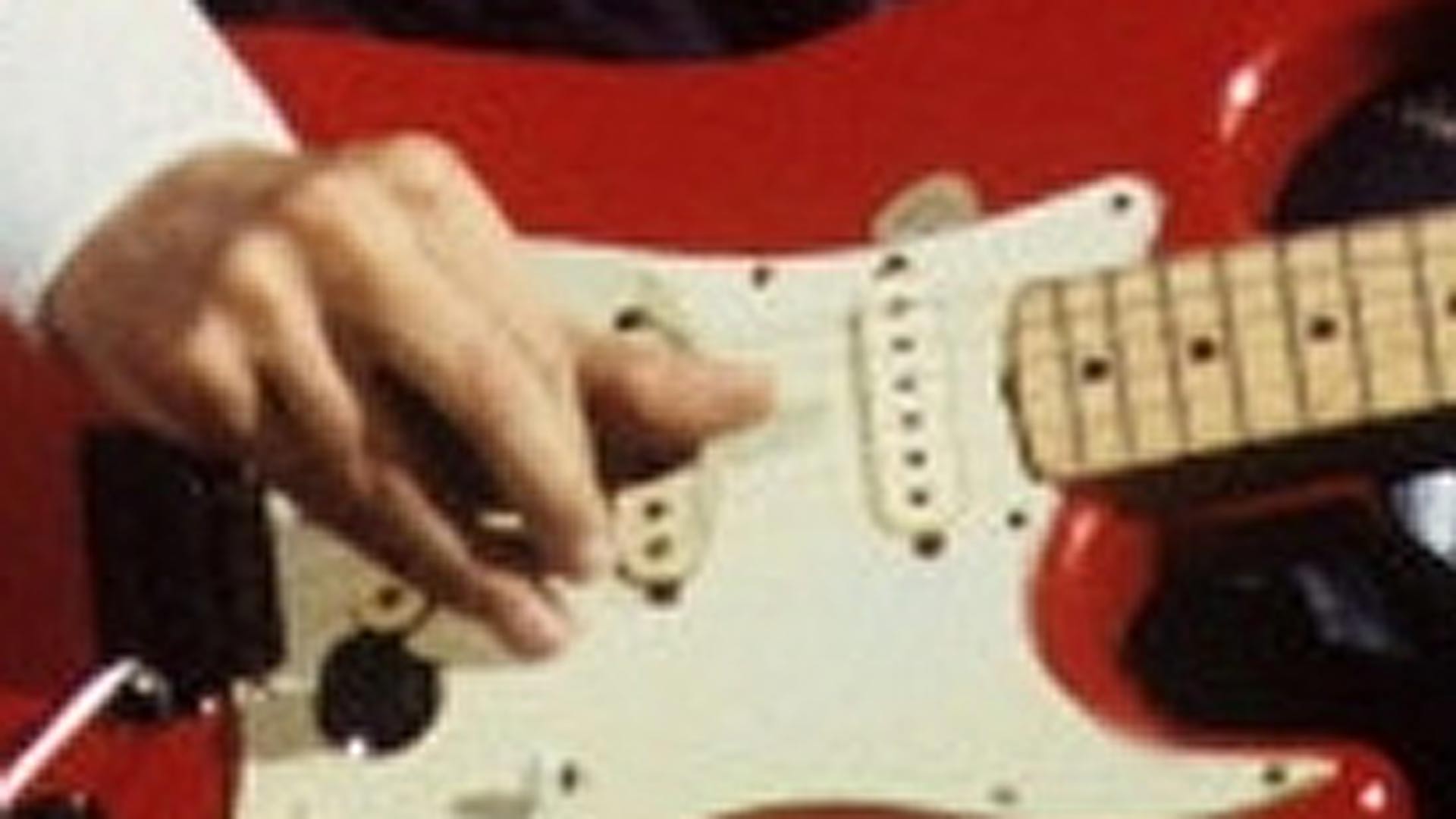 1979 tour
Bernadette ?
In my car ?
Twisting by the pool
–>  Blog post about pick in 1979
1980 Making movies
Tunnel of love : acoustic and electric rhythm parts
Expresso love : rhythm parts and solo
Hand in hand : riff ?
1980-1981 tour
News outro (which became later the Private Investigations outro) DORTMUND 1980
Expresso love
1982 Love over gold
Private investigations : electric part VIDEO CLIP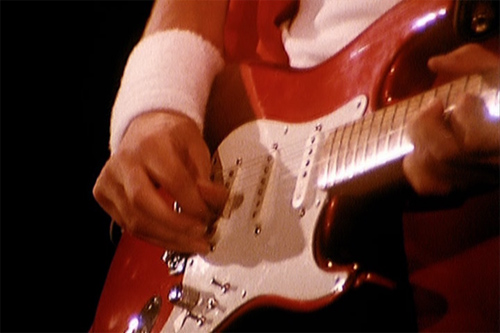 1983 ExtendedPlay (EP)

Twisting by the pool VIDEO CLIP
If I had you : acoustic (played by Mark or Hal ?)   [I guess the electric guitar that opens the song with that E chord is played with a pick, too]
1982-1983 tour
Expresso love ALCHEMY
Twisting by the pool
1985 Brothers in arms
So far away : rhythm part (or played by Jack Sonni ?)
The man's too strong : acoustic part (Ovation)
1985-1986 tour
Expresso love WEMBLEY 85
The man's too strong : acoustic part (Ovation) WEMBLEY 85
Note : So far away was played with fingers during 1985 tour WEMBLEY 85
1990 Notting Hillbillies
Will you miss me : lead part VIDEO CLIP
acoustic parts on several songs
1991 On every street
On every street : lick at the end of each verse (just after "on every street")
Ticket to heaven : electric chords, acoustic rhythm (or played by phil Palmer ?)
1996 Golden heart
Nobody's got the gun : acoustic rhythm part
What have I got to do : acoustic rhythm part
2000 Sailing to Philapdelphia
What it is : acoustic rhythm
Who s' your baby now : acoustic rhythm
Camerado : lead part
2001 tour
Who s' your baby now TORONTO 2001
Note : So far away was played with fingers during 2001 tour LYON, PHILADELPHIA
2002 The ragpicker's dream
Why aye man : accent chords on the chorus (played live by Guy Fletcher on the 68 sunburst Telecaster)
You don't know you're born : end solo
Dady's gone to knoxwille : acoustic rhythm
2004 Shangri-la
Our Shangri-la : lead part
Everybody pays : lead part
Don't crash the ambulance : lead part
Summer of love : rhythm
Note : Our Shangri-la was played with fingers during 2005 tour HANNOVER, ERFURT
Note : So far away was played with fingers during 2005 tour MILAN, LONDON
2006 All the roadrunning
Rollin on : lead part
Beyond my wildest dreams : acoustic rhythm and tremolo chords (or played by Richard ?)
All the roadrunning: acoustic rhythm (or played by Richard ?)
2006 tour
Born to run VERONA
Our Shangri-la VERONA, BRUSSELS
So far away BRUSSELS, DUBLIN, VERONA
2007 Kill to get crimson
True love will never fade : lead
The scaffolder's wife : acoustic rhythm part ?
The fizzy and the still : lead part for sure, but rhythm part ?
A heart full of holes : electric licks
We can get wild: lead and rhythm parts
Punish the monkey : lead and rhythm parts
Let it all go : lead and rhythm parts
The fish and the bird : electric chords
In the sky : electric chords
2007 promo tour
True love will never fade BERLIN
The fizzy and the still BASEL_
Let it all go BERLIN, BASEL
Our Shangri-la BASEL
2008 tour
True love will never fade PARIS
Our Shangri-la ATARFE
So far away PARIS
2009 Get lucky
Border reiver : acoustic rhythm part and accent chords on the blonde telecaster
Hard shoulder : lead part and acoustic rhythm part
The car was the one : lead part and mandolin
Remembrance day : mini martin
So far from the clyde : acoustic rhythm part and accent chords on the blonde telecaster
Piper to the end : acoustic rhythm part
Early bird : wah-wah licks
Time in the sun : acoustic rhythm part
2010 tour
Our Shangri-la ? (no video found)
Note : So far away was played with fingers during 2010 tour CORDOBA
2011 tour
Our Shangri-la ? (no video found)
Note : So far away was played with fingers during 2011 tour ROMA
2012 tour
Our Shangri-la ? (no video found)
Note : So far away was played with fingers during 2012 tour BERKELEY
2012 Privateering
Redbud tree : acoustic rhythm part and accent chords (left channel)
Yon two crows : electric chords (left and right channel)
Seattle : lead part and acoustic rhythm part
2013 tour
Our Shangri-la RAH
Seattle PARIS, RAH
Note : So far away was played with fingers during 2013 tour RAH29/05, RAH30/05
Click here for all guitar parts on all songs on all albums :
https://www.mk-guitar.com/gear-on-all-songs-for-all-albums-wiki/