With this blog post I want to recommend a free Android app that I use myself not only for listening to music but also for figuring out licks, riffs, or lead stuff. It is the AB Repeat Player.
The feature I love most on it is not the one that gave it the name – the ability to define two loop points – but the three 'Jump' buttons. These are labelled with 7,5 / 5 / 2.5 and simply make the music jump back for 7,5 / 5 / 2.5 seconds as soon as you press one of these. You are listening to e.g. a fancy Mark Knopfler guitar lick, thinking 'Wow, what was that?' – press one button to hear it again. This is to me the best solution, as rewinding or moving the position slider in other apps is very inaccurate and take too much time. You can also combine the three buttons or press one of them several times, e.g. press the 7.5 seconds button twice to jump back for 15 seconds to repeat a longer part.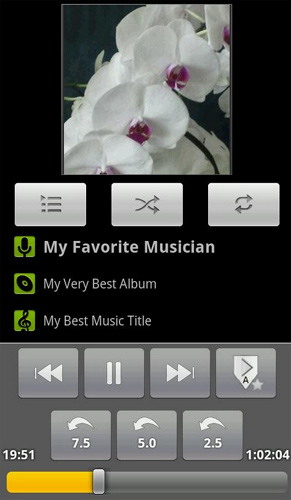 The rest of the app is fine, too – it simply does what you expect of a music player app.
Here is the feature list:
* AB Repeating Function (Ad hoc and saved)
* AB Points post-adjustment Function with "Check Mode"
* Interval (Pause) between AB Repeats
* Easy traverse inside A and B points
* Easy to play recorded A and B points list.
* Customizable three Jump Buttons
* Bookmark Function (Ad hoc and saved)
* Bookmark position adjustment function with "Check Mode"
* Unlimited recording of AB points and Bookmarks
* Editable list of AB points and Bookmarks
* AB points and Bookmark database clean up
* Backup and Restore of AB points and Bookmark database
* Display order in AB points and Bookmark list. Creation date, name and A point with reverse order for each.(New)
* Mp3 Lyric Display.(Font size and previous position memory)
* Playlist (same as Google's standard media player)
* Setting to the Ring Tone (same as Google's standard media player)
* Shuffle modes (same as Google's standard media player)
* Search (same as Google's standard media player)(Enhancement: can be invoked from menu)
* Artwork Display (same as Google's standard media player)
* Audio and Video Support
* Automatic pause/resume on received calls.
* Automatic pause on headset unplugging.
* Controls by Bluetooth.
* SD card installable for Android 2.2 or later.
* Database Migration to a new device.
* Sleep Timer
* Float Pad: Translucent Control Button Pad floating over any other apps.
* Saving the sound between AB as a ringtone, alert, Ankidroid flashcard sound and othe