The song Portobello Belle has been played as a great 'Irish-reggae-calypso' version on the Love over Gold tour. An edited version has been released on the Money for nothing compilation sampler a long time ago. However, it was not included on the Alchemy video, and there is no youtube video at all of this song from that tour.
For this reason we do not know much about the guitar on this song. The only info came from myself on my old Dire Straits guitar page where I stated that it was played on a black Fender Stratocaster. The source of this info is my own memory, as I visited the concert in Cologne, May 16, 1983. But I never have seen the guitar I remember well on any picture, until recently when the following picture appeared: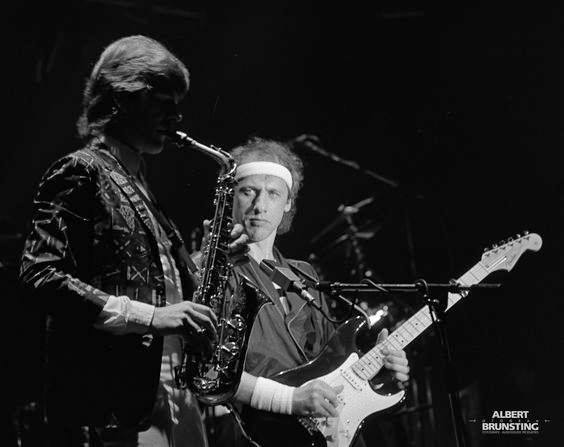 Note the capo at the third fret, a clear indication for an open G tuning, shifted to Bb by the capo, the key of Portobello Belle on this tour (it is C on the Communique album and D on the Making Movies tour!). The guitar might be the Amercican vintage reissue which was released just a year before (it does not llok like 50ies vintage guitar).
Mark played a lot of cool solo licks in the long outro of the songs, often in dialog with Mel Collins on the saxophone, as seen in the picture.