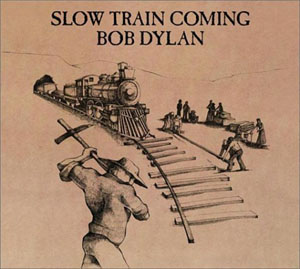 In May 1979 Mark Knopfler and Dire Straits drummer Pick Withers were invited to play on Bob Dylan's new album, Slow Train Coming. This was not the first session Mark Knopfler was asked to play on (he already played on the   Steely Dan song Time out of Mind and with Mavis Staple before), but it was the first session for a complete album.
The idea came from Barry Becket and Jerry Wexler, the producers of Dire Straits' second album Communique, which was recorded in December 1978. Becket and Wexler were als the producers of Slow Tran Coming and suggested the Dire Straits lead guitarist and drummer to join the band for that session (Becket himself played the  keyboards, and Tim Drummond was on bass). Dylan saw Dire Straits first on their first US tour in the Roxy, Los Angeles, in March '79. He was deeply impressed and agreed.
Slow Train Coming was Dylan's first album after his conversion to Christianity (he was Jewish before), so "all songs were about God" (quote Mark Knopfler, who seemed to be puzzled a bit by this circumstance). The sound and the arrangements of almost the whole album are not too far away from Dire Straits' first two albums. The 9 songs feature some superb guitar playing by Knopfler, and Pick Withers creative drumming adds a lot of colour and underlines his importance for the Dire Straits sound of that time.
The album was recorded at the famous Muscle Shoals Sound Studio in Alabama.
Guitars on Slow Train Coming
Knopfler took the following guitars to the session:
1) A red Fender Stratocaster (my source does not mention which of his two, but since his maple neck Strat (# 80470) was much more used around this time, I would vote for this one)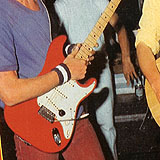 2) his sunburst Telecaster Custom (the same that is today used for high G-tuning , picture courtesy of Guy Fletcher))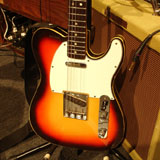 3) a National (he had two at this time, the Style-O of Brothers in Arms fame, and a Tricone from the late 20ies, both are possible)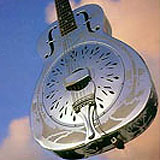 4) three Ovations ( a 6 & 12 string Adamas – see picture, from the Love over Gold recording session in 1982, and a Custom legend)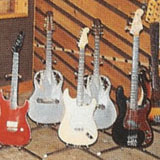 5) He also played a Gibson 335 on at least the title track, which was suggested by Barry Becket for a different sound and was borrowed from someone down there)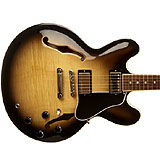 There is no information on effects and amps available. Knopfler used the Music Man HD 130 212 on stage at this time, from what the ears can tell us, the Music Man might be used on Slow Train Coming, if not then a Fender seems likely.
The songs
1. Gotta serve somebody
A rather simple tune with just the chords Am, Dm, and Em. Knopfler plays a subtle rhythm riff with the neck pick-up of possibly the sunburst Telecaster (the red Strat should sound fatter due to the DiMarzio FS-1 it had in the neck position around that time). This guitar part features bits of Knopfler's typical staccato picking on two or three strings and is worth a listen.
2. Precious Angel
This song in the key of Eb (chords are Eb, Ab, Bb, and Cm) features two acoustic rhythm guitars, both strummed with a pick. I guess Knopfler played both, or one is played by Dylan (he is credited for guitar as well in the cover notes).
There is a wonderful two-string riff that opens the song and appears between the single verses. It makes use of the Memphis Scale. It is one of my all-time favourite guitar sounds. For a long time I thought it to be the red Strat with the neck pick-up, but meanwhile I tend to believe it is the Telecaster Custom (same argument as for Gotta serve somebody, also a friend once came up with a beautiful 1967 Telecaster in Candy Apple red which had exactly the same sound). Besides the riff and Knopfler's typical licks between Dylan's vocal lines, there is a great solo before the last verse, and another one in the outro.
3. I believe in You
Again a strummed acoustic rhythm guitar – I guess it is Mark Knopfler, the timing is close to perfection so it must be him ;). Just like in Precious Angel a lead guitar with the neck pick-up position plays fills and a few wonderful solos. To me it seems to be the same guitar and amp as on the song before. Obviously a volume pedal is used on both songs.
4. Slow Train Coming
The lead guitar is a Gibson 335. The sound is a typical blues sound a la Albert King, but there is just a bit of subtle distortion. The song is in the key of Am and has the chords Am, Dm, Am F, Dm, Am (you will hear when the changes are, it is a really simple song). The rhythm guitar on the left channel is surely Knopfler, here it seems to be the red Strat.
5. Change your way of Thinking
This song build on Mark Knopfler's three-string riff (over the chords Am, Dm, Em, however, all are played without thirds, see this article about the no-thirds business). Possibly this guitar is the same as on Slow Train Coming (the Es 335), however, a Telecaster with some distortion seems possible as well. The lead guitar has a similar sound, it might be the same guitar as well. Much great lead guitar, many blues and rock licks.
6. Do Right to me Baby
This is a rather hidden diamond on this album. Knopfler's picking on the National is superb, listen to the way it blends with Pick Wither's tasteful drums. Chords are B, E, D. The National might be open G with a capo at the 4th fret.
7. When you Gonna Wake up
Not too much guitar in this song with – again – the chords Am, Dm, and Em. The refrain-like part has a few nice D, C, G, F chords thrown in. Knopfler plays the rhythm guitar – I vote for the red Strat – on the left channel, that nicely counteracts with Becket's keyboards on the right channel.
8. Man gave Names to all the Animals
This one sounds like a children song with a nice reggae groove. Knopfler plays a strummed acoustic reggare rhythm on the left channel.
9. When he Returns
Just piano and vocals here.
Just for the record: Three more songs were recorded on this session and made it to a single b-side or to some bootlegs. These were Ye shall be changed, Trouble in Mind, and Ain't No Man righteous.
The CD Slow Train Coming has been available in the CBS Nice Price series for a long time, and still does not cost much. If you like early Knopfler guitar work and don't have it, it is an absolute must have. You won't regret it. You can follow these links to buy it directly at Amazon.
Amazon.com  . . . . . Amazon.co.uk . . . . .  Amazon.de