Dire Straits' first hit was Sultans of Swing, recorded in Basing Street studios, February 1978. But did you know that there was a different studio recording before (demo version, Pathway Studios, July 1977), and also a later recording (Pathway Studios, April 1978) that was recorded to be released as a single in some countries?
The demo version
This version was recorded on July 2, 1977, together with four other song (Wild West End, Down to the Waterline, Water of Love, and Sarcred Loving which was written by David Knopfler and was never released). The band had just started a few weeks before, and after rehearsing these first original songs they decided to book a small studio – Pathway Studios  – to produce a demo tape. The session cost them about 180 GBP. We all know what happened later: Radio DJ Charlie Gillet played these demo tapes in his Honky Tonk radio show, and the band finally got their record contract at the end of that year.
Pathway Studios was a tiny 8-track demo studio in Islington, London. Here is a quote I found about it in the Wikipedia. Note that it seems to refer to some later point as Alesis digital reverbs were definitely not available in 1977:
"The studio was very small, about 8 x 8 metres with a 2 x 2m control booth in the corner and an upright piano next to it. You could just squeeze three people into the control booth! The tape deck was a Brenell 1 inch 8 track. The monitors and desk were custom made, and they had a pair of Auratones as well, fed from Quad power amps. The desk was quite small, pushed hard against the front wall with the custom monitors hung above and the Auratones on the meter bridge. Outboard was very basic: a Bel delay line, an Alesis digital reverb and Drawmer gates, but they had a nice plate reverb in a cupboard in the office upstairs. I can't recall all the mics but they were the industry standard stuff. We got big warm sounding mixes and despite the cramped conditions the mixing process seemed effortless compared to the difficult digital learning curve I have been on in the last two years."
The following two pictures show Squeeze recording there in 1976.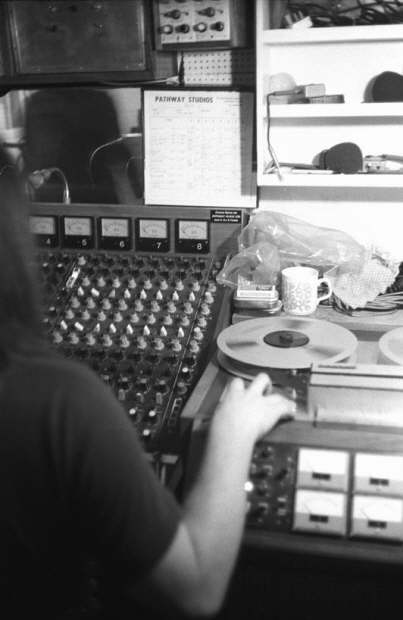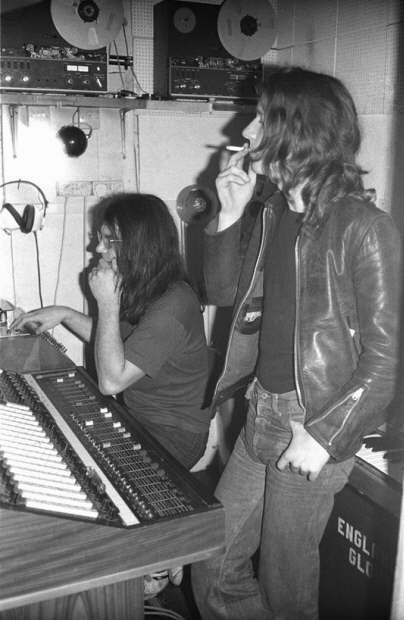 This Sultans of Swing version (and only this song) was later released on a compilation album called the Honky Tonk demos by Oval records (see below for sound clip).
The single version
After the recording of the first Dire Straits album at Basing Street Studios (February 13 – March 5, 1978), the results were played to Phonogram's marketing people. Some of them thought that Sultans of Swing was too polished and smooth sounding for a single that is accepted by the radio, so they re-recorded this song on April 20 / 26, 1978, again at Pathway Studios. This single was released in some countries, among them England and Germany, while in others the album version was released (e.g. in the Netherlands or the US). In some countries,  e.g. the former Yugoslavia, one verse (#5, "And a crowd of young boys…") was cut off to decrease the overall length which – with almost 6 minutes – was rather long for the radio. This version features more distortion and compression, it indeed sounds more like  rock music. It even appears to be a bit faster although it is practically not. It seems it was never released on CD (see below for sound clip).
Sound and gear on these versions
On the demo version Mark Knopfler played most likely his 1961  Stratocaster (S-No #68354) , at this time he only had one Strat. It was probably not painted red yet but had a wood finish. The pick-up position seems to be the middle pick-up. The sound engineer at Pathway – Chas Herington – was later the  lighting designer on the Brothers in Arms tour  in the mid 80ies. It was 1985 in Arnhem, Netherlands, when I spoke with him and asked him about the equipment on these sessions. He told me that Mark played an old Fender Vibrolux amp which was recorded with a Neumann microphone. He also stated that Mark's typical sound came out of the amp this way, and was not created with outboard effects and processing.
I assume that on the single version Mark Knopfler played his maple-neck Strat (S-No. #80470), also through the Vibrolux. This time there is a subtle distortion, possibly also compression (remember the rumour about the Dan Armstrong Orange Squeezer). The pick-up position seems to be bridge & middle to achieve that nasal sound.
Sound clips
Here are sound clips with excerpts from both versions.
Demo version (from CD)



Single version (from vinyl single)


Note that Mark also plays one of the two rhythm guitars on both tracks.