Everyone who has seen Mark Knopfler live on one of his recent tours might have notived that cool-looking turquoise combo amp next to Knopfler's Marshall cabinets. Knopfler's second guitarist Richard Bennet also plays one. It is the Tone King Imperial.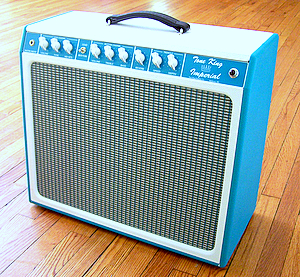 Tone King amps are built from selected quality parts by Mark Bartel in Baltimore. Mark does all the woodworking, upholstery, and electronics assembly himself to have total control about the sound and quality of his products.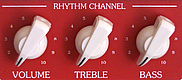 The Imperial is a two-channel combo with reverb and tremolo. The output power is about 20 watts, coming from two 6V6 tubes. The two channel make use of 12AX7 pre-amp tube, and one 12AT7 driving the reverb, just like Fender amps from the sixties or seventies. In fact it reminds me a lot of a black-face Fender Deluxe amp, which also has a similar layout and one 12″ speaker. In fact you can read on the Tone King website that the rhythm channel aims for that Fender black-face sound. A volume, treble and bass control is all that is required here. Of course the spring reverb – a fundamental ingredient of the Fender sound – works for both channels (note that on Fender amps it only affects the second channel). It will not surprise you that the reverb circuit uses the same two-spring reverb tank  (acutronics) and the same tubes like Fender.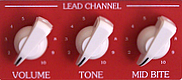 The second channel also features just three controls: volume, tone and mid-bite – so no bass and treble control here, just on a small Fender tweed amp from the 50ies. The mid-bite adds a midrange peak and tightens the low end, controling the overdrive tone character that can be blended from Fender tweed to Marshall style.
The speaker is custom designed and labelled with 'Tone King 33' – manufactured by Eminence (who also built the speakers in most silver-face Fender amps in the 70ies and 80ies).
The recommended retail price for the Tone King Imperial is 1995 USD. More infos on toneking.com.
On the last (2008) tour Mark Knopfler played his red Schecter Telecaster on the song Cannibals through the Tone King Imperial, his '54 Stratocaster  on the song Our Shangri-La, and his signature MK Strat on Postcards from Paraguay and  True love will never fade. I guess it is the 'king of clean' for him and that he hardly ever uses the second channel. Another song to feature this fine amp is Hard Shoulder from Get Lucky (played on a Gretch 6120).