Guy Fletcher was so kind to post a picture of Mark's effect rack in his tour diary . With this blog post I am trying to explain a bit what we can see in the picture, and some details we can conclude from what we see.
But first here is what Guy wrote on it:
As has been requested on more than one occasion, here is some inside info on Mark's guitar rig. Glenn Saggers station. As anyone who has seen the show will realise, there are a lot of guitar changes not only for Mark but for everyone. Mr. Saggers works flat out during the show, tuning and preparing amp setups and delivering instruments to Mark flawlessly through the evening. I really don't know how he does it as every amp sound and effects setting is recalled meticulously for each and every song. Two Reinhardt amps are used in leap-frog fashion and whilst we are performing one song, the next one is being set up. Also there is the '59 Bassman (offstage) which is used for slide along with Mark's 'Dano' and of course the Tone King which resides onstage in between the two 4×12 cabinets. The Tone King settings remain constant during the show.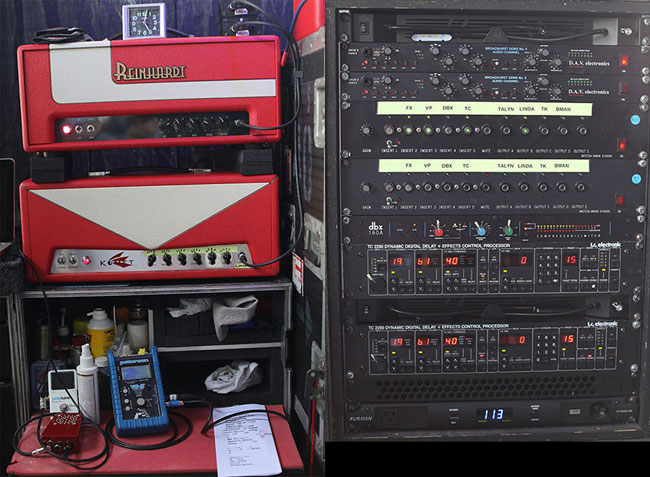 Well, Mark uses four different amps on this tour. While Guy speaks of two Reinhardts, what we see is one Reinhardt Talyn (top left) and a Komet Linda (bottom left). Then we have a Tone King on stage, and a 1959 Fender Bassman off-stage. The tone King is for some clean guitar sounds, and the Bassman for slide with the Danelectro guitar.
Guy says two Reinhardts "are used in leap-frog fashion", meaning one is in use while the other is prepared for the next song. I guess the same is true for the Reinhardt and the Komet we see here. However, this also means that when Mark wants to play two songs that both require e.g. the Komet but with different settings, he has to play one other song with a different amp in between so that his technician Glenn Saggers has time to prepare all settings. Or Glenn has to be very quick and change the settings in a short break while Mark e.g. announces the next song.
The Effect Rack
Some devices in the rack are the same as on previous tour (compare to the 2008 rack): we see the familiar D.A.V. electronis pre-amps (with EQ, possibly some limiting/compressing, exact model unsure, probably custom made), the same switching units, and the TC Electronis 2290 delay. There is a Furman power conditioner again, this time at the bottom of the rack. It seems to be this model.
We see that all devices – except a compressor – are arranged in pairs. Theoretically this can be for several reasons: one for each "leap-frog pair" so that Glenn can adjust the device for the next song, one for each stereo channel, or one in use and one as a spare in case of some defect.
We can't know for sure, but there is one detail in the pictures that makes one think it is the third option: the power LEDs on some devices (the lower of the two D.A.V. electronics pre-amps and lower of the switching units) are off, so I guess these are spares.
There is one 'new' effect – new does not sound right for a classic that was introduced in the 1970ies – a dbx 160A mono compressor. If I had to guess I would say it is for clean slide guitars.
Let's have a look at the switching system:
On the left we have a gain control – I guess the D.A.V. comes first so the gain will not do that much, next five insert slots, a mute button, and then five outputs.
Insert1:
unsure if green LED is on or off, no label, might be unused, has an additional mini switch (can also be a 'bypass all inserts')
Insert2:
labelled with FX (effects). Which effects? All the ones in the rack are in the other inserts (see below), so I guess this is for effects on stage. This makes sense as it is the first insert in the line.
Insert3:
labbeled with VP (volume pedal). The Ernie Ball volume pedal is used in the effect insert, just like on previous tours. Mark's guitar does not go directly into the device to his feet as you might assume, but to the rack, then it goes back to the volume pedal, and from the volume pedal back to the rack. You need long cables, but as the signal is low impedance here this does not matter really.
Insert4:
labelled dbx, so it is the 160A compressor
Insert5:
the TC 2290
It seems each insert can be active (green LED on) or bypassed here.
The signal can then be routed to any of the four amps.
If you see more details, or want to speculate what the little boxes on topf of the Talyn and Linda amps (labelled with Talyn and Linda) are, share your thought in a comment to this blog post (no registration required).