Mark Knopfler never played that much bottle-neck guitar on his albums or concerts, nevertheless he occasionally did: except Water of Love from the first Dire Straits album of course, songs like The Man's too strong (from Brothers in Arms), Do America (from Sailing to Philadelphia), Money for Nothing intro (live version 2001 tour), or Right now (All the roadrunning) come to mind. (I guess there are more, but before thinking about these for too long I will leave it to you to add these with the comment function below this article).
One song that was normally never played with a slide guitar is Angel of Mercy from Dire Straits' Communiqué album (1979). However, the live version we have on some bootleg recordings from Germany, February 1979 features a slide lead guitar. On this tour Angel of Mercy was played as an encore, see more on this in this forum thread.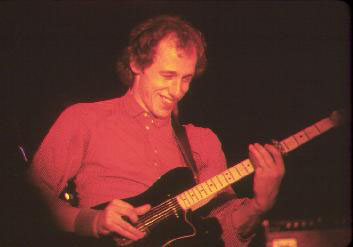 Before many will ask where they can hear this recording, I thought to write this article to include an audio clip. Enjoy:
Dire Straits, Angel of Mercy, Mannheim, Germany, February 14, 1979
Edit March 27: original text:
By the way, I have no idea which guitar he is playing here. Normally they had a black Fender Telecaster Thinline (from around 1969) tuned to open A on which Mark played Water of Love. So it would make sense that it is also the black Tele, as the Strats were setup for normal playing  with an action probably not suited for bottle-neck. On the other hand, Angel of Mercy does not call for an open tuning. I am afraid we will probably never know for sure 🙁
Update March 27:
If you read the comments to this article, you have probably seen the following picturs (thanks to Brunno):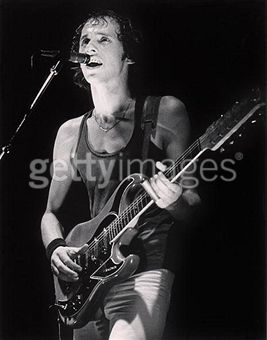 The description at Getty Images says that it was taken in Rotterdam, October 19, 1978 (like four other pictures , see also this article), but I think this picture one (and one other) are in fact from early 1979 (similar but not identical clothes, different guitar, Mark is wearing a neck lace, etc.). If so, this picture is the proof for a 12-string (a Burns Baldwin Double Six by the way) played with bottle-neck, and the song can be no other than Angel of Mercy.