Adrian Boot is one of Britain's best-known music photographers. You might know his name  from  pictures in magazines  (e.g. in NME or Melody Maker) or books – e.g. from the Dire Straits book by Michael Oldfield  which features a lot of his pictures.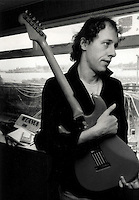 While searching the web for unknown Dire Straits pictures, I recently found a website – urbanimage.tv – which has about 65 pictures of Dire Straits / Mark Knopfler by Adrian Boot. I have seen many of them before but I was surprised to also  find many which I did not know. As you know I am always investigating on all aspects of Mark's gear – especially the gear used in the old days of Dire Straits. So I was pleased about some pictures from their rehearsal room that e.g. showed Mark's 1961 Fender Strat from the back (5 tremolo springs, more details about this in one of the next blog posts), or some of the stolen sunburst Schecter Strat (it seems Adrian's pictures from this photo session are in fact the only ones that exist of this guitar).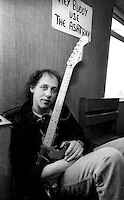 You can buy the pictures there, for personal or commercial use. Prices for personal use depend on the resolution, and are 10, 20, or 30 GBP. As I was hoping to find some new details, and being also curious about what is possible to see at the highest resolution of a professional photo, I decided to buy one. After paying with Paypal, you can immediately download the picture in a size of 2,500 pixels, and you will get a link to the full resolution picture (the resolution displayed below each pictures) in an email a bit later.
It is really fascinating how good the quality of such a picture is compared to the versions we see in a magazine. I was almost able to read the serial number of the guitar (at least if you already know it, for some reason the 68354 rather looked a bit like 68345 to me).
Personal use includes the right to print a picture (your favoured picture as a poster on your wall), use it as screen saver, or in the classroom etc. The price for a commercial licence is of course higher and depends on many aspects, like the place and type of your company, picture size, duration, and purpose.