This blog post is not about guitar, not even about music, instead it is about a piece of art – Alchemy by Brett Whiteley, the painting that gave its name to Dire Straits' first live album in 1984, and appeared on the cover.
Brett Whiteley (1939 – 1992) was an Australian artist who is represented in the collections of all the large Australian galleries.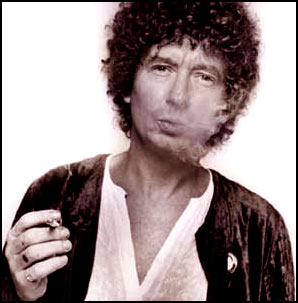 Paintings
For your pleasure, here is a collection of some of Whiteley's paintings. Interestingly one of his most famous pictures – The Jacaranda Tree (1977) – which sold for almost $ 2 million, cannot be found in the whole web.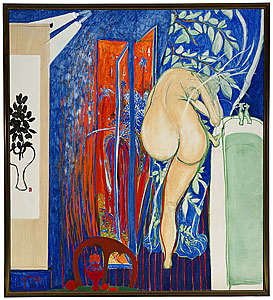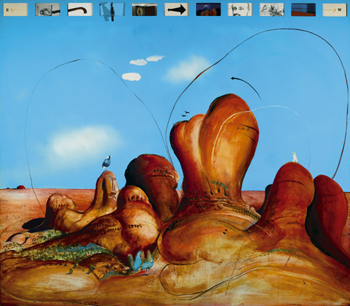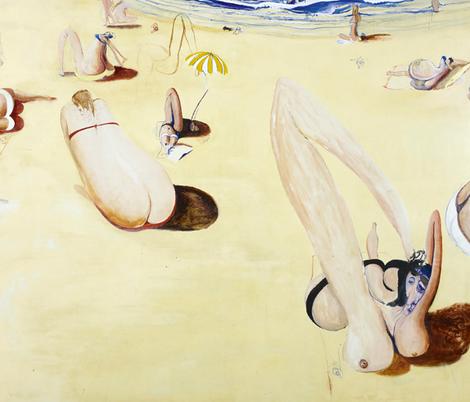 These pictures appear on the screen courtesy of the estate of Brett Whiteley. More info on http://www.brettwhiteley.org
Alchemy
The original Alchemy painting was done between 1972 and 1973. It was composed of many different elements on 18 wood panels.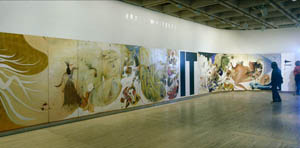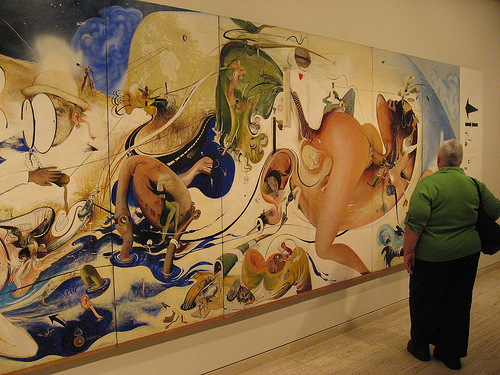 Alchemy is the ancient progress to transform ordinary components into gold. Transformation –  "Alchemy is seen as an allegory of life's journey, from birth to death, and the ultimate transmutation. It wanders from darkly sexual surrealist forms through beautiful Australian landscapes with native animals and birds, to the flashing sun against a golden sky."
The parts on the Dire Straits Alchemy cover can be found on the right. The guitar and the lips and some other details of the cover are not original.
This is what the Wikipedia writes about it:
Part of his work Alchemy was featured on the cover of the Dire Straits live album Alchemy although it had the addition of a guitar with lips held by a hand. Alchemy is the ancient process of turning ordinary compounds into gold.The original painting, done between 1972 and 1973 was composed of many different elements and on 18 wood panels 203cm x 1615cm x 9cm. Reading from left to right it begins with an exploding sun from a portrait of Yukio Mishima that Whiteley had started but never completed. The famed author Mishima had committed seppuku in 1970 and the literary mythology that arose of his apparent final vision of enlightenment in the form of the exploding sun,as he pressed the knife into his body inspired and became the basis for this work. In terms of media it used everything from feathers and part of a birds nest to a glass eye, shell, plugs and brain in a work that becomes a transmutation of sexual organic landscapes and mindscapes. It has been regarded as a self-portrait, a giant outpouring of energy and ideas brought forth over a long period of time.According to art writer Bruce James the self conscious inclusion of the austere pronoun 'IT' that also makes up part of the work compacts life, passion, death and faith in a single empowering word and unites the notional wings of an altarpiece to nascent addiction. Alchemy