The guitar playing on Setting me up from Dire Straits' first album is a true masterpiece. The recording features three guitar tracks: the opening riff, the lead guitar (both played by Mark), and a strummed ryhthm guitar by Mark's brother David.
On Youtube you can find countless attempts by different players to play this riff. Most of them try it with standard tuning, which also works more or less. However, I am almost sure that it was played in open A tuning (e, a, e, a, c#, e , from low to high). Open A is basically the same as open G, only tuned up one note.
The problem is that there is no video of this song available from that time (later versions with the Notting Hillbillies or with Dire Straits in the 90ies were different, these days he even plays a different riff in standard tuning).
So what makes me think that it is open A?
Hint 1: One reason is obviously that I myself play it in open A, and it works (listen to a sample of riff, refrain riff, solo and outro riffs). But you might argue that this is no real proof of course.
Hint 2: Check out the following picture from I guess early 78. It shows Knopfler playing that old black Telecaster on which he also played Water of Love on almost all Dire Straits concerts up to late 1979. This guitar was tuned to open A, and had a capo at the 5th fret (proven by countless live videos of Water of Love). Note that on this picture there is no capo !!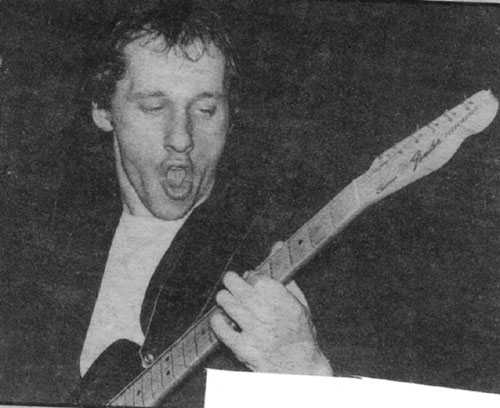 Playing Setting me up?
I can't imagine that the Tele was tuned from one song (Water of Love) to standard tuning within the same concert, but if not, it means it shows Mark Knopfler playing a second tune in open A tuning. Which? My guess: Setting me up. Again, more a hint than a proof? The let's go on to …
Hint 3: On the bootleg CD Live in Leeds (January 1978) Water of Love is directly followed by Setting me up, you can hear the noise when Mark plugs in the guitar before Water of Love, and after Setting me up, but no noise between. So, Water of Love and Setting me up probably both on the black Tele.
Hint 4: This video on youtube shows Knopfler playing Setting me up with the Notting Hillbillies in 1990. At this time the riff was still played similar to the original recording. Obviously it is open G tuning, with a capo at the 2nd fret. (At this time he played heavier strings than in the 70ies, so I guess he now prefers G).
At least this is a proof for open tuning. Last not least, we have …
Hint 5: Many years ago I bought a CD-ROM with pictures of different rock bands, one was Dire Straits. The pictures were from two concerts, one from 1981, the other one from probably May or June 1979.
The 31 pictures from the 1979 concert (my guess is it is Munich or Wettingen) seem to be in chronological order (Mark looks more and more sweaty with each picture). Picture #28 seems to be before the encores.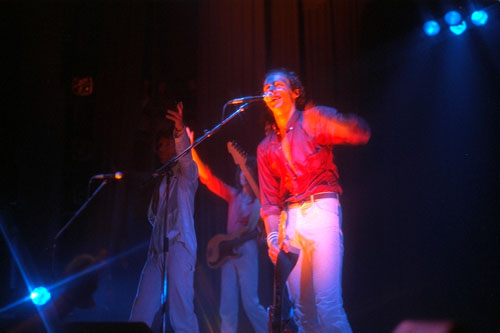 From bootleg recordings we know that the last two encores were Setting me up and Southbound again.
The next pictures #29 (below) and #30 show Mark playing David's (!!) black Strat (which was not used by David in those concerts, he meanwhile played a Peavey guitar). I am sure that it is Setting me up, no capo, and the left hand fingering matches Setting me up in A as well.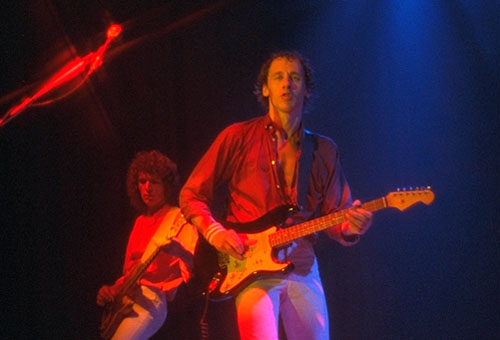 Setting me up on David's black Strat
Ok, this is why I think it is open A.
Again, the guitars used for this song :
* studio recording: unknown
* early 1978: black Tele (AFAIK, later in 1978 the song was not played)
* May/June 1979: black Strat (song wasn't played in early 1979)
* late 1979: Les Paul Special (mentioned in a concert review from a magazine)
To end with, another goodie: I will not hold back picture #31 from that photo CD. It shows Mark Knopfler playing Southbound Again, played on the red maple-neck Strat. This is the only picture where we know that it is this song (no video of Southbound existing).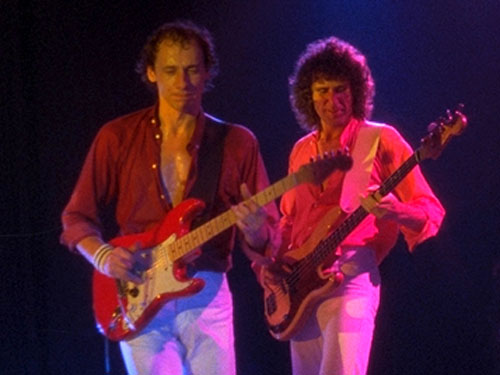 Southbound Again on the red Strat
Stay tuned,
Ingo