The Dire Straits concert from the German Rock Pop in Concert TV show in December 1980 was indeed a very special concert for me. The reason is simple: it was the first concert of my life. I was 15 then and had been a Dire Straits fan for one and a half year. Dire Straits were still a new band at this time, but were already big. Their first two albums had both been mega-sellers here in Germany, and they had just released their third album Making Movies.
Dortmund – a city at the eastern edge of the Ruhrgebiet, one of Europe's biggest urban areas – was my hometown, so it was no question for me to see this concert as soon as I heard of it. The ticket was 20.00 DM (German Marks, about 10.00 Euros now !!!), really not much for something that was not only a concert of one of the hottest bands but in fact a complete festival evening with four bands. These were – in the order of their appearance:
Talking Heads
Roxy Music
Dire Straits
Mike Oldfield.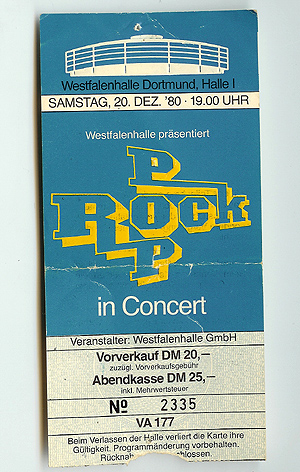 Rock Pop in Concert vs. Rockpalast Night
In fact there were even two shows, the first on Friday, December 19, 1980, the second on the next day, Saturday 20. My ticket was for Saturday.
These shows were the first Rock Pop in Concert festival. At that time Germany's TV channel ARD broadcasted the legendardy Rockpalast Night twice a year, a six-hour rock show that was broadcasted via Eurovision to most parts of Europe. Germany's second big TV channel then, the ZDF, started Rock Pop in Concert to establish something similar to compete with the Rockpalast Night. Unlike the Rockpalast Night, Rock Pop in Concert was not broadcasted live, but about two weeks later.
Before the show – Meeting Mark Knopfler
The concert officially began at 7 p.m. It was about midday that day when I got a phone call from a girl who was a class mate of mine, saying something like "I am here at the Westfalenhalle [the venue], Dire Straits are sitting in the hotel lounge next to it. They are really nice and I already got lots of autographs. You better hurry …".
I was there about one hour later (no car, I had to take the bus – remember I was a kid), together with a friend of mine who was also a mad Dire Straits fan. In fact some band members were still sitting in the cafe next to the arena. I cannot really recall who it was – mind that Allan Clark and Hal Lindes were new in the band, and I did not even know about them them at that time, neither did I know their manager Ed Bicknell. All I remember is that Dire Straits' bass player John Illsley was there, but neither Mark nor drummer Pick Withers. I still have those John Illsley autographs in the Dire Straits book I had with me for that purpose (see pictures). I of course asked where Mark was, and someone gave me the advice to wait for him near the hotel elevators in the hotel because he was in his hotel room but probably came down soon. This was what we did.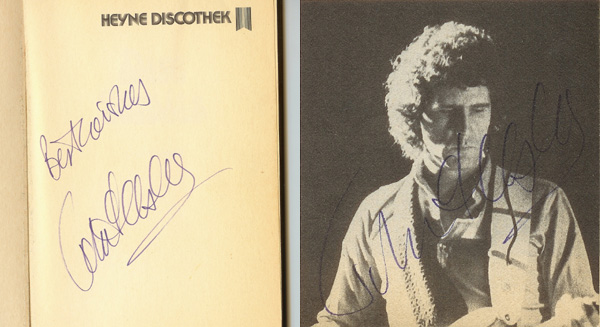 I don't remember how long we were waiting there, or how many times the elevator doors opened to let out some 'ordinary' people, but then they opened again and Dire Straits drummer Pick Withers stepped out. We spoke to him, saying something like "You are Pick Withers, aren't you? Can we have an autograph?", but for some reason he replied – in English of course – that he was not the person in question. If we wanted autographs, he advised us to try in the near hotel cafe were "the others of the band are" (!!?) …
It was only a few minutes later when the elevator doors opened again, and I still clearly remember that there was only one single guy in it: Mark Knopfler. It then turned out that we were not the only ones waiting because a few guys near us immediatley were off their seats pushing towards MK, and asked him for autographs. We also got an autograph each, but there was no time for a chat about whatever. At least I got the chance for a picture with MK.
Note: I would like to add the picture of MK and me plus the autograph here, but I cannot find them right now. I think I remember putting them into one of my Dire Straits books or vinyl records not too long ago, but I don't find them 🙁
The girl who had phoned me that day got even more luck: she managed to get into the arena (I remember she regularly did so to collect autographs from all bands she liked), and she watched Dire Straits during the sound check. She even took some pictures,which you can see below. I also remember she told me later that she was just watching them from in front of the stage, when Mark came over to the stage front to give her an autograph (she did not even had to ask for it).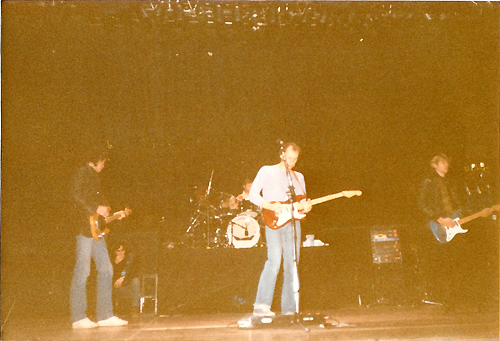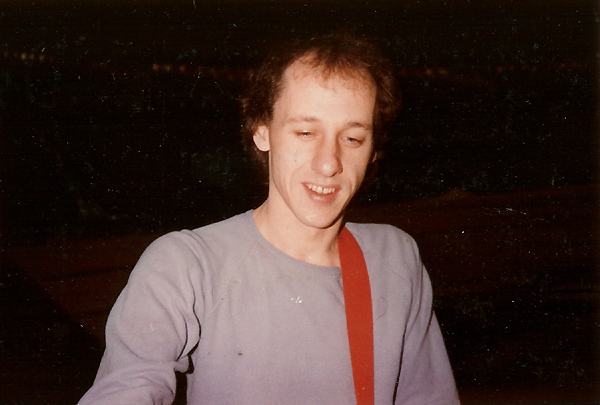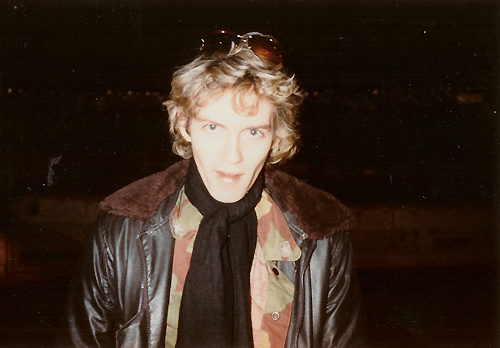 The show
The Westfalenhalle in Dortmund was one of Europe's biggest venues at that time. There were two stages, one at each end of the oval shaped arena. This way it was possible to change the stage line for the next band while some other band was playing on the other stage. Talkin Heads and Roxy Music were alright, but for us they were not more than some kind of support act.
The Dire Straits show was spectacular and left a deep impression on me, a 15-years old watching his first concert. I guess many of you know the concert from videos of the TV broadcast. While the sound on TV was terrible, I did not feel so during the concert. I later read an interview with Pick Withers where he also stated that they had the worst sound of all four bands on TV, but the best during the concert. The setlist was – as far as I remember it – probably something like:
Once Upon a Time in the West
Expresso Love*
Down to the Waterline
Lions
Skateaway* (? not absolutely sure anymore)
News
Sultans of Swing
Tunnel of Love
Where do you think you're going*
Solid Rock
The songs marked with * were not included on the TV show. I am rather sure that they did not play Romeo & Juliet, which became a hit shortly afterwards.
Mark played all songs on his new red Schecter "Dream Machine" Strat, except the last three. Tunnel of Love and Where do you think you're going were the sunburst Schecter Strat, and Solid Rock was his new black Schecter Telecaster (which was also used for Telegraph Road a few weeks later on that same tour). The amps were two Music Man 212 HD 130 into Marshall cabs, and he had a rack full with effects.
Here is a video clip from the show. By the way, both me and my friend bought a Dire Straits poster at one of those merchandisising stands in one of the breaks between two shows, shortly before the Dire Straits appearance, and neither of us thought too much about what to do with a rolled poster during the concert… Funnily you can see where we were standing in the audience waving those posters, e.g. at 0:38 🙂