Our loaded metal pickguards are now available with a new pick-up model: the VFS-1. V stands for vintage, F for fat, (and S for Strat).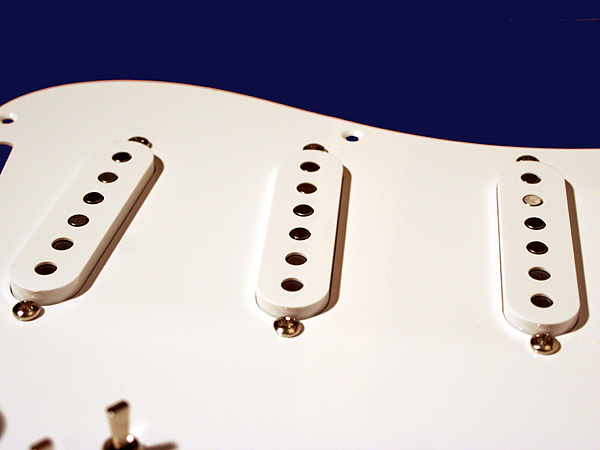 Unlike our Schecter-style pick-up (which is very close to a Schecter F500T), the new pick-up has the "normal" sized magnet pole pieces, like a vintage Strat pick-up, and can be used with a plastic cap (the F500Ts do not allow to put a cap on them). So it looks and sounds similar to the Seymour Duncan SSL1s or APS-1 that Mark Knopfler played in his red Schecter dream machine Strat. But that's not all, the VFS-1 has also a second outer coil to create  fatter sounds, similar to the DiMarzio FS-1 that Mark Knopfler played in his red Fender of early Dire Straits days.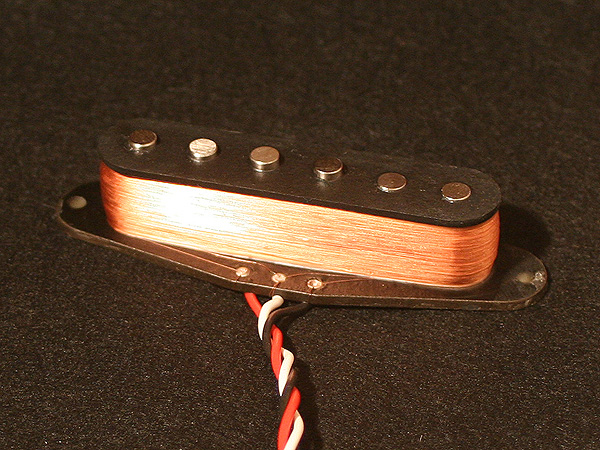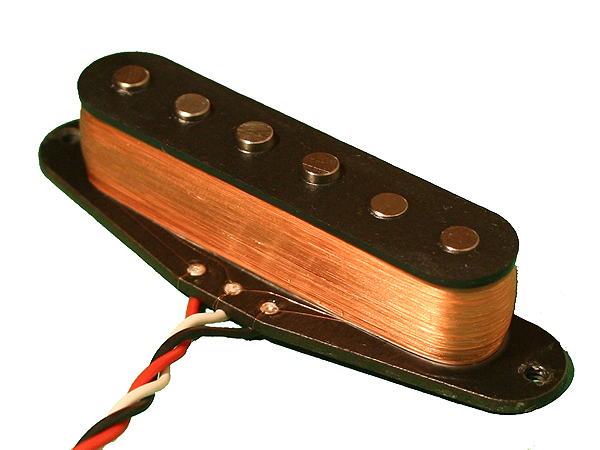 In other words, the new tapped pick-up allows two sounds that can be toggled with the up/off/down mini switches of our pickguards. You will have the same 27 sound combinations from the three mini switches as with the F500T pick-ups. In the up-position of the mini switch the sound will be  much closer to the vintage Strat sound than the thinner but bassier  sound of the F500T.
The new pick-up is also ideal for all who would like to have a DiMarzio FS-1 in the neck position of their Strat for those Single-Handed-Sailor sounds but do not want to lose the normal Strat sound. You can e.g. switch the outer coil on or off with a push-pull poti (available here) so that the overall look of the original Strat is not changed.
The price of this pick-up is the same as of our F500T-style pickups, and the loaded pickguard also costs the same as with the old type (which of course will also remain available). Sound demo clips coming soon. [edit:  here is one which A/B compares the VFS-1 to both a 1955 Strat pickup and to a DiMarzio FS-1, more to come]
See the VFS-1 in our shop.