Here comes an article not really related to guitar but possibly interesting for everyone who likes to listen to music.
The term "loudness war" is something you might have come across when talking or reading about modern music productions. There is even a Wikipedia article on this matter. I will explain in short what exactly is meant with it, and I will give some listening samples from Knopfler / Dire Straits recordings.
When music is recorded to a digital medium, it is encoded as numerical values. The highest possible value automatically defines an absolute volume limit – also called ceiling. This volume level is called 0 dBFS (decibel full scale). From a technical point it makes sense to record music as loud as possible to the medium, otherwise you had a bit more  noise or distortion (due to quantization effects). On the other hand you must not exceed the volume ceiling because this would result in audible distortion (clipping) or clicks.
Now imagine a recording of a live concert, and let's assume the loudest part of the concert is the final chord of the last song. The "natural approach" would be to adjust the volume so that this highest part reaches exactly 0 dBFS, which means the whole rest of the concert would be at some lower volume. This approach is indeed applied (at least approximately) to some recordings of classical music.
In the music industry however, a central concern is – as everywhere else – competition. Of course everyone who performs music wants to sound good, and if possible to sound better than competitors. For some reasons we tend to think something sounds better than someting else when it is louder, so if you compare two pieces of music, and the first is recorded slightly louder than the second, it seems to sound richer, deeper, more brilliant at the treble end, fuller in the bass – simply better in comparision. Or imagine two guitar pick-ups, one is just a bit louder than the other – most people would indeed say it sounds better.
In any 'competetive situation' – e.g. different songs are played by a radio station, or in a disco club – it might  be better to be louder than others. This comes to an extreme in advertising , music and voice should be as loud as possible.
This consideration leads to the next logical conclusion: why not simply increase the volume of the live concert of our example, and reduce the volume of just that loudest part at the end a bit so that it does not distort? You will get a higher average volume, and compared with the original version your recording will seem to sound better.
What already becomes clear here is that a further increase of volume is only possible if loud parts are reduced in volume, in other words, you decrease dynamics (which is nothing but the technical term for the volume span from the lowest to the loudest parts of your music). As a rule:
louder = less dynamics

This image shows two similar wave forms: In the left picture, the peak reaches the ceiling (red line) and thus prevents further volume increase. In the right picture the same wave form is compressed, the height of the peak (and thus the dynamic range) is reduced. Next the volume is increased so that the peak reaches the ceiling again. Note how the average volume (blue line) is increased, this wave form sounds louder.
When you look at a piece of music in a wave editor, you will see your music as a landscape of volume peaks – the louder something is, the higher these peaks. Here the term 'ceiling' becomes clear: a peak can only reach such a height which is up to the ceiling, more is not possible. If you want to increase the level of the part containing the peak, you must decrease the height of the peak before. This is an artificial change of your music, a reduction of dynamics.
The volume reduction can be achieved on different ways, e.g. you can tell your software to decrease the local volume within a special area around your loudest peak. A more practical way is the use of a device called compressor (or limiter, which is not the same but works similar). This is why the reduction of dynamics is also called compression. (Note that this has nothing to do with "data reduction algorithms" which reduce quality to get smaller file size, something the mp3 algorithm does.)
Normally all commercial music is compressed – not only these days but also some decades ago. It is important to understand that compression is not really bad, it has some important advantages. Besides the possible volume increase, compression makes sure that you don't get disturbing volume changes. Imagine yourself at home, conversing with some guests, and you have some music running in the background. You want your music to stay more or less at the same level, the level you have adjusted your stereo to. If your music was played by a good band, it might have too much dynamics for this particular situation. Loud passages would disturb your conversation, low passages would be too low. Or imagine yourself driving in your car, the engine creates a certain background noise. Without compression, low passages will be lost behind that noise, or if you increase volume, loud passage would be too loud. So ..
… dynamic compression is not bad itself, there are good reasons for it.
At a live concert the situation is different. You probably don't want to chat a lot with other concert visitors, instead you will pay full attention to the musical performance. Here it makes sense to have the complete dynamic range the band is able to produce. Loud passages will rock, low passages add contrast. When you are at home and really want to listen to music intensively, a dynamic,  uncompressed recording will leave a much stronger impression than a flat, heavily compressed one. A last technical reason for compression is that compressed music requires only a fraction of electric power. Small devices like mp3-players that don't have a built-in  powerful amplifier might distort when you try to play uncompressed music at a certain volume level.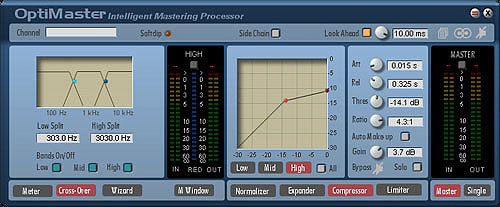 Digital software mastering tool (compression and more, the Optimaster for the Creamware Scope system I use)
The loudness war
Digital compressors react much faster than analog ones. When digital compressors became availabe, it was possible to compress music much more without getting strange sounding artefacts (like pumping, flat sound). No wonder that soon music was more compressed and the overall volume was increased. Suddenly everybody wanted to be louder than the others, it was most important to have the 'hottest' mix. As a result of this heavy compression, all parts of the song have almost the same volume, the intro with only a few instruments is as loud as the final guitar solo at the end. And all songs on your CD have the same (=the highest possible) volume, suddenly ballads are as loud as powerful rock songs. Needless to say that many nuances of music are lost, also heavily compressed music is more exhausting to listen to over time.
Note that different radio stations are also in a 'loudness war' – they have to compete and want to be louder than other stations. They use their own compressors to even further increase the volume of any music they play, as a result music looses more and more of its full potential.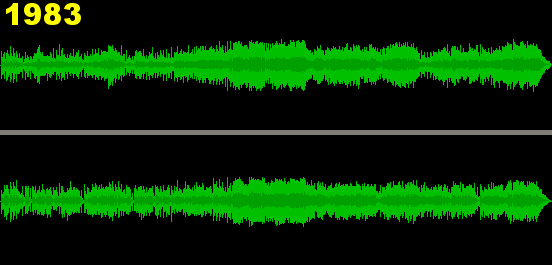 This image shows the volume of different remastered version of the Beatles' 'Something'. Note that short volume peaks that make further volume increase impossibly possibly cannot be seen at this zoom stage. Also not that in the last stage  (2000) almost all parts of the song have the same volume.
The way out
The only way out is to stop this war, to leave more natural dynamics, which means to leave the music at a lower volume. This is no problem for anyone who really wants to listen to this music, he can adjust the volume at his stereo exactly at the level he wants it to be – it is only a kind of problem in the 'competition situation'. Responsible artists don't care about this and release their music as it sounds best – however, they still have to find a compromise for the different listen situations described before.
Some examples
* Do you remember the remastered versions of all Dire Straits CDs that came out a few years ago? Besides a bit of different different EQ'ing in some cases, the main difference was the higher volume, due to more compression. But they still sound alright because there is no overuse of compression.
* The Communique CD is more compressed than the first album (because it was intended to have an impact on American radio), the drums and bass sound rather flat for this reason.
*The Passalong / Crowfly  concert recordings of Mark Knopfler's 2005 tour were heavily compressed which is the reason I don't really like them.
*There is a bootleg called 'On every Planet' from the last Dire Straits tour in 1992. It seems it was directly recorded from the mixing desk to a DAT tape, and then written to CD (only change was a sample rate conversion from 48 kHz to 44.1 kHz). The volume is lower than a commercial live CD, but if you adjust the volume accordingly, it has an astonishing dynamic range (just listen to the outro of On Every Street or Private Investigations).

This picture shows On Every Street from the uncompressed On Every Planet bootleg, note the volume differences, especially between the parts before and after the break (guitar only, at ca. 80% of the song)

And here the same song from the official (and thus compressed) On the Night CD, note that all parts have almost the same volume.
* The concerts broadcasted by Germany's NDR3 station are heavily compressed and sound flat, the ones from WDR2 are alright, so are normally the ones from BBC.
You can listen to the following sound file to hear some of these examples. Listen to it as it is and note the volume differences. Then listen to it again, and always adjust your volume level to equalize the differences. Note the resulting difference in dynamics and feel.
Sound clip:
a) original recording of Sultans of Swing
b) remastered version , note the higher volume
c) On Every Street from the uncompressed On Every Planet bootleg (highlighted part in the picture below) , note the drastic volume changes

d) On Every Street from the compressed On The Night CD. Note the constant volume before and after the break due to compression, even that low guitar break is much louder, generally there are only small volume differences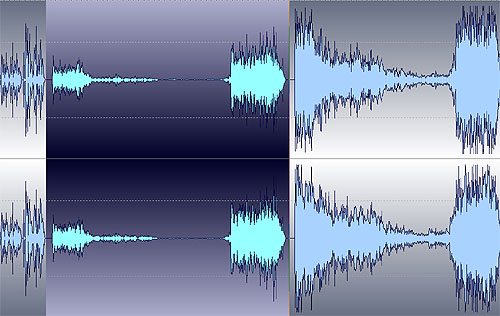 Picture of the sound clip (highlighted part is c)
If you are interested in more technical details, refer to the Wikipedia article on the loudness war: For the German readers who want to learn more about technical aspects of music and recording, my book Das eigene Musikstudio might be helpful which you can buy directly at Amazon following the link below (if you ever want to buy it, please use this direct link since I will get a small commission in this case only).
More info on this book here.